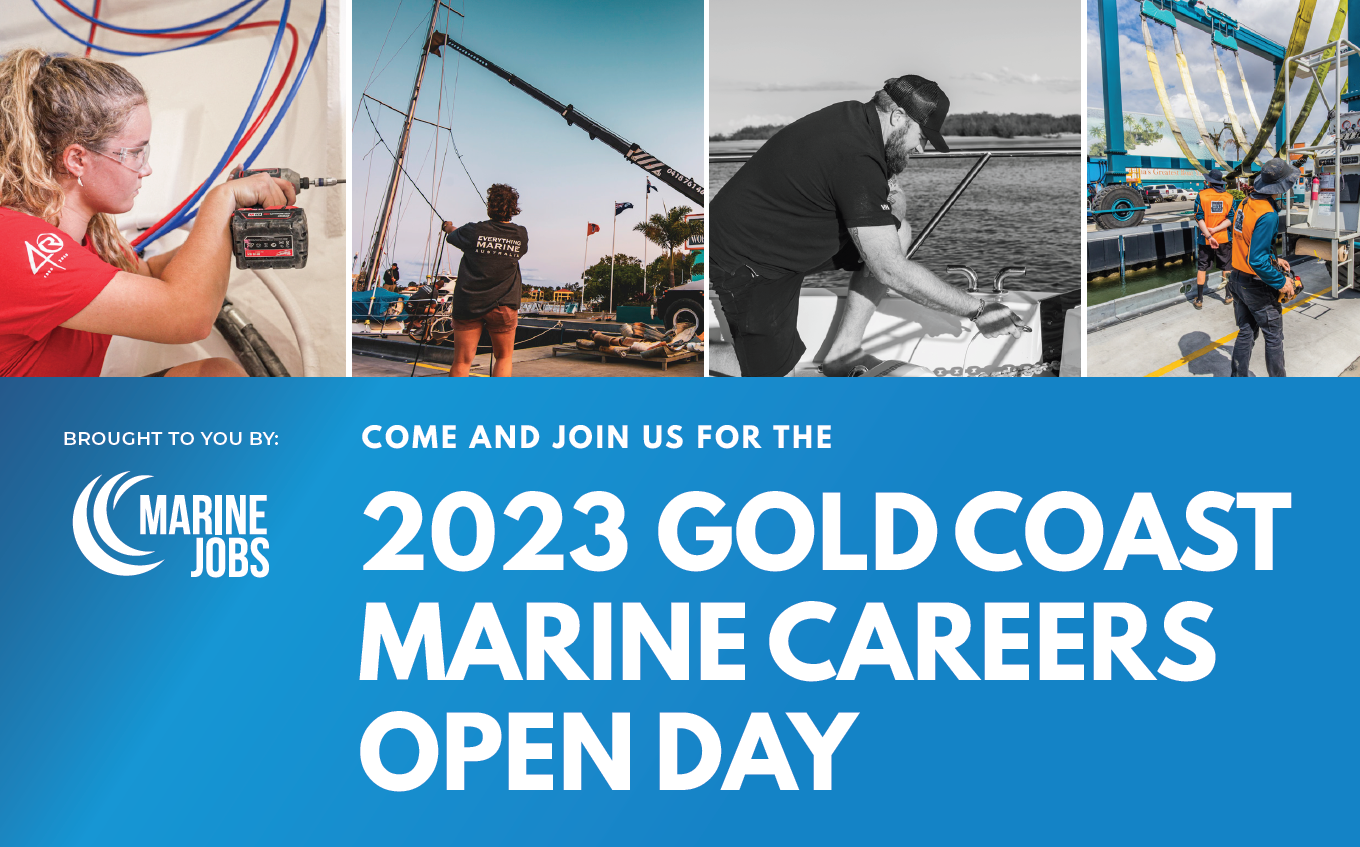 The Gold Coast Marine Precinct is Australia's marine manufacturing engine room. Marine Jobs is offering you the chance to see what career opportunities are involved in this exciting industry that create some of the world's most beautiful sought after vessels and components.
Marine Jobs present the Gold Coast Marine Careers Open Day (GCMCOD). Set to make waves on Saturday, 21st October 2023, from 9am to 2pm in Coomera, this event, sponsored by Pantaenius Australia, will allow attendees to tour some of Australia's most famous manufacturers and shipyards including Riviera, Maritimo, Gold Coast City Marina & Shipyard and The Boat Works.
This event is industry led with the robust support of local, state, and federal government departments proudly supported by the City of Gold Coast, Department of State Development, Infrastructure, Local Government and Planning; Regional Jobs Committee – Gold Coast; Regional Development Australia; and Workforce Australia, Local Jobs Program – Gold Coast; and stands as testament to the collaborative spirit and the shared vision of elevating the marine sector.
Under the banner of 'Local Career, Global Opportunities' the event will:
1. Showcase the vast range marine careers available to aspiring apprentices, young professionals, university students, and those contemplating a sea change in careers.
2. Broaden the public understanding of the marine sector's pivotal role within the Gold Coast's economic landscape.
3. Promote a platform for marine employers whereby they can engage directly with their future workforce through marinejobs.org.au that charts out avenues of growth and opportunity.
4. Bolster inclusivity, with a special emphasis on the invaluable roles of females and first nations people in the marine landscape.
27 Waterway Drive, Coomera, earmarked as the event's bustling muster point is a hub of activity and exploration. Here, Marine industry SMEs converge, eager to showcase their prowess and scout fresh talent. A central highlight is the physical jobs board, bridging career seekers with tangible employment opportunities. The arena will also provide live information sessions, that highlight careers within superyachts, defence, commercial maritime operations, local manufacturing marine science, and marine tourism.
Furthermore, attendees are invited for live interactive tours that run every 30 minutes across renowned locations on Waterway Drive including:
• Riviera Australia
• Maritimo
• Gold Coast City Marina
• The Boat Works
Drawing on experiences learnt from the success of the Cairns Maritime Industry Open Day in May 2023, GCMCOD promises a transformative experience. A video recap from the Cairns showcase offers a sneak peek into the maritime marvels ahead.
For more information, including registration, please visit the event website at: Gold Coast Marine Careers Open Day