Superyacht Australia is the peak body for the Australian Superyacht Industry. Our key focus is to develop and promote the South Pacific's international competitiveness as a destination for the global superyacht fleet; to increase visitations of superyachts to Australia; and to promote the capabilities of the Australian superyacht industry to service a visiting vessels' every need.
Australia is renowned for its iconic attractions, pristine and secluded cruising grounds, award-winning repair and refit businesses, marina facilities and long-established supply chain. 
Come on down.  A warm welcome awaits you!
OUR PUBLICATIONS
Superyacht Australia produces our SUPERYACHT AUSTRALIA magazine annually. The magazine is distributed globally and printed copies are available at major superyacht boats shows. Printed copies are also sent to international media and superyacht industry networks around the world.  The magazine is also available as e-book and can be easily downloaded onto any device or simply viewed from a browser. 
For enquiries regarding advertising in this publications or if you are interested in receiving a copy, please contact info@superyacht-australia.com
SUPERYACHT AUSTRALIA MAGAZINE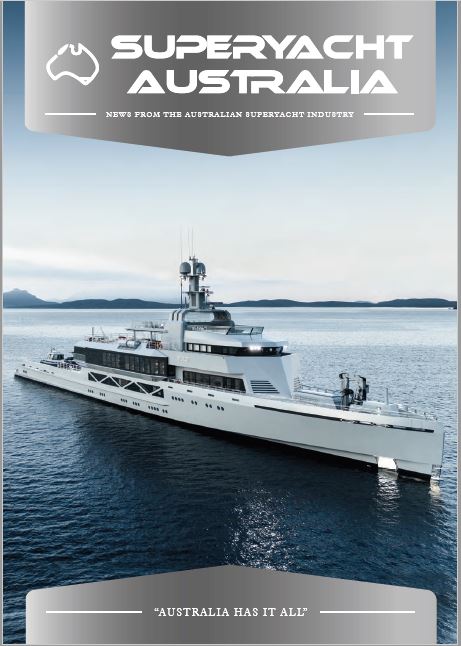 This is a high quality publication featuring stories that provide up to date information about boat yard facilities, unique cruising destinations and our local product and service providers – ready to engage with visiting superyachts.
The Superyacht Australia magazine was developed to share the ongoing activities within the Australian superyacht sector and to the international marine industry and to provide key industry stakeholders, captains and owners with up-to-date information. The latest publication in October 2021 is Issue 9. 
View all publications here.
REGIONAL GUIDES