Pilotage requirements vary between each state and territory in Australia. The below map provides an overview of this.
We recommend discussing your movement requirements with your Australian superyacht agent to access the latest information.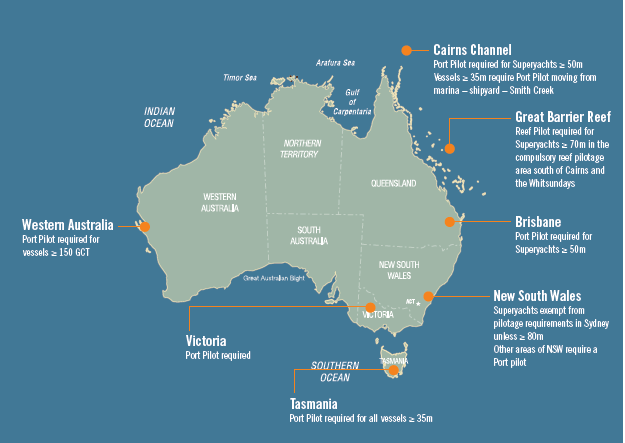 Coastal Pilotage for the Great Barrier Reef :
Vessels with an overall length of 70 metres or more are required to use the services of a licensed coastal pilot in these compulsory coastal pilotage areas:
Inner route (from Cape York to Cairns)
Great North East Channel
Torres Strait
Hydrographers Passage
Whitsundays
Masters are not relieved of overall responsibility for the safe operation of a vessel due to the presence of a pilot onboard.
More details and key information can be found here GBR Pilotage
More information on the Queensland Coastal Passage Plan is available here
Port pilotage requirements are determined by the harbourmaster of that individual port, requirements are risk based and can vary dependent on the port area being accessed. Captains should refer in advance to individual port procedures in order to determine port pilotage requirements.