Chris Blackwell (Chairperson)
Sales and Marketing Manager – Echo Marine Group & Echo Yachts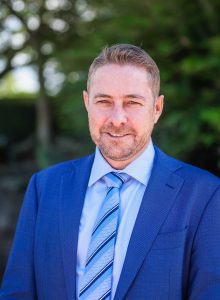 Chris holds 24 years of shipbuilding design, project management, sales and marketing experience spanning all three of Western Australia's internationally renowned shipyards: Austal, SilverYachts and Echo Yachts.
After eight years with the Austal Group in design and project management roles, Chris joined the newly created SilverYachts' shipyard in 2005 as Design Manager on their inaugural project M/Y Silver. During his nine years with SilverYachts, Chris helped create numerous award-winning superyachts, managed luxury outfitting specialists, project managed the M/Y SilverFast newbuild project and provided client and marketing support.
In 2015, Chris joined the newly established custom superyacht builder Echo Yachts, overseeing the luxury outfitting of the company's international award-winning 84m 2940GT flagship trimaran superyacht M/Y White Rabbit – the largest and most efficient, technologically advanced superyacht built in Australia.
Chris became Sales and Marketing Manager for the Echo Marine Group in 2019, representing the company, promoting the Echo Yachts brand and their extensive shipyard capabilities for large custom new builds, refits, and maintenance projects domestically and abroad. Echo Marine Group's projects span the luxury, commercial and defence markets.
As Superyacht Australia Chairman and long-standing superyacht industry enthusiast, Chris is dedicated to championing the Australian superyacht industry locally, nationally, and abroad.
---
Cameron Bray
Managing Director – The Superyacht People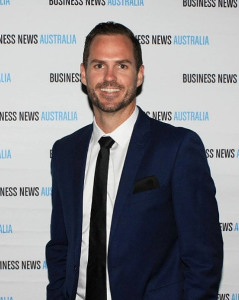 Cameron is the managing director of Northrop & Johnson Australia, and of Bray Management; one of Australia's leading superyacht charter and management firms. Cameron sits on the Superyacht Australia committee to aid in the growth and betterment of the Australian superyacht industry. Bray Management is the first Superyacht Australia member to achieve accreditation with MYBA, The Worldwide Yachting Organisation, an international best practice organisation promoting standards of professionalism and ethics in the yachting industry globally.
His eye for determining the best international standards, combined with the drive to bring them to local shores, gives him a particular interest in the development of the charter and cruising sectors. 
A Gold Coast native, Cameron worked extensively in the superyacht industry overseas before returning home to turn his skills to the Australian market. Cameron's strength in the Australian superyacht industry, and in connecting Australia with the international marketplace, stems from his previous roles as a superyacht captain, yacht broker, charter agent and yacht manager.
His industry knowledge, combined with a business management degree mean yachts in his care are managed impeccably, and always with an eye on the owner's goals. His passion for the industry and attention to detail with a 'can do' attitude are the driving forces behind his charter, brokerage and crew services success.
---
Carrie Carter
Carter Marine Agencies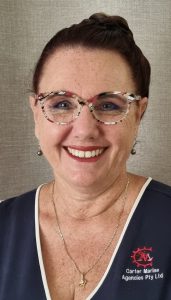 For over 37 years, Carrie has been a shipping agent for every type of domestic, commercial, and international vessel you can imagine.
Starting in Newcastle working for a large ship agency dealing with Coal, Wheat, Woodchip and Container ships, she then moved to far north Queensland as Senior Shipping Superintendent for Comalco Aluminium Ltd for 6 years in Weipa.
After meeting her future husband, she temporarily moved back to Newcastle with Wilhelmsen Lines prior to moving to their Cairns Office 1996 whereby Carrie was introduced to the evolving superyacht industry.
In 2003, after identifying the special requirements, attention to detail and quality of service expected by visiting yachts, captains, owners, and their crew, along with building great rapport with the local shipyards, Carrie, and her husband Phil, opened Carter Marine Agencies Pty Ltd to service the developing niche superyacht industry of Cairns.
Carter Marine Agencies has been a proud member of the Super Yacht Group Great Barrier Reef since its inception in the late 1990's, Superyachts Australia as well as the Association of Yacht Support Services.
For nearly 20 years, Carrie has maintained great rapport with many vessels all over the world, continuing to deliver personalized care and necessary agency support services to the superyacht yacht industry of Cairns and many other ports of Australia.
---
Steve Fisher 
Director of International Business – Rivergate Marina and Shipyard
Steve Fisher is the Superyacht Specialist Manager at Rivergate Marina and Shipyard in Brisbane, Australia. He graduated in Science from Griffith University (1978) before working in the dredging industry, the offshore oil and gas industry and finally the Superyacht industry.
He holds commercial marine qualifications as a Captain and qualifications as a Yacht Master Instructor. Mr Fisher served as an Infantry Officer with the 8th Battalion Royal Australian Regiment. He was the former General Manager at Rivergate retiring in 2011, agreeing in late 2011 to return to Rivergate in his current role. He has held leadership roles in the Marine Industry for over 30 years and has been involved in the haul out of over 10,000 vessels.
---
Joachim Howard 
Managing Director – Ocean Alliance Pty Ltd
Joachim founded Ocean Alliance when he relocated to Sydney after gaining extensive experience with the international superyacht industry. His roles were involved in the operation and management of both private and chartered superyachts in regions covering the globe.
After relocating to Sydney in 2006 following many years working in the industry abroad he was involved with the Australian agency for several key European shipyards. He frequently returned to international boat shows & conferences while managing client's new construction yachts and overseeing their delivery and management in Australia & Europe.
The Ocean Alliance charter division was established in 2011 after identifying an industry shortfall of local and international experience. His drive was a key interest in the development of the Australian charter market and the experienced representation and marketing of international charter destinations.
Joachim's extensive experience in the industry allows him to assist clients in all aspects of a superyacht experience including charter brokerage, charter management, yacht brokerage, new construction, operational guidance, commercial structures and superyacht marketing. His attention to detail and unwavering client focused approach is the foundation of Ocean Alliance.
---
Peter Redford
Director Australia – Fraser Yachts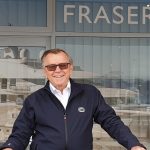 Born in Germany and schooled in Australia,  Peter Redford studied mechanical engineering and proceeded to work for one of Sydney's most reputable engineering consulting firms.  Later his work commitments presented him as a sales engineer at Caterpillar in the middle East as of head of sales. He worked closely with the international division and assisted in managing sales and communications with all of the company's clients in the region.
 Having purchased his first ski boat at the age of 16 years Peter's greatest passion has always been boats, both power and sail and with the water. Peter Redford epitomises integrity, energy, hard work and creative service.  He is the Managing Director of Fraser Yachts Australia, a great industry leader and mentor to all his staff.  With over 40 years industry experience Peter has been appointed as the Chair of the NSW Superyacht Association, BIA member and Justice of the Peace.    
---
Tommy Ericson
Director – Aus Ships Group
Tommy is the Director of the Aus Ships Group headquartered at the Rivergate Marina & Shipyard precinct in Brisbane. 
Born in Scandinavia, a love for the sea was in his veins from an early age, having sailed extensively with his family in northern Europe and Australia. This 'devocean' has grown from a passionate pastime to a professional career in ship design, construction, operations and maintenance. 
Tommy is a qualified naval architect who graduated from the University of New South Wales in Sydney, Australia. He is also a chartered professional engineer with the Australian national engineering register, Queensland professional engineers, the Asia Pacific Engineering Register and the UK Engineering Council.  
The Aus Ships Group is a multi-faceted maritime business that provides design & technical services as well as manufacturing, shipbuilding and refit services to both the commercial and superyacht sectors. 
---
Duncan Curnow
National Sales and Marketing Director – Quality Marine Clothing

Duncan is the Sales and Marketing Director of ACME Group and specialises in their marine division, Quality Marine Clothing.
Located in Sydney, Australia and having been brought up with a father in the apparel industry, Duncan quickly found that his passion for the marine industry tied with his generational knowledge of apparel was a niche that he had to follow. He headed up famous brands like Line 7 and Musto, before specialising in the uniform and merchandise for within the events sector; including the Sydney 2000 Olympics, 2003 Rugby World Cup, America's Cup and the ROlex Sydney to Hobart Race, just to name a few.
Duncan had a stellar education in Sales and Marketing spanning 40 years where he was fortunate enough to study in Australia, the UK and Sweden. He has lived internationally multiple times and travelled prolifically while working for many apparel brands globally which has given him an unparalleled understanding of the global apparel market. This has meant he is often being asked to consult on merchandise requirements for large events, especially suited to the Australian market (where he is currently based).
ACME Group is a multi-faceted apparel and uniform solutions company which incorporates ACME Merchandise (retail-based T-shirts), ACME Corporate (corporate promotional goods), Ross & Whitcroft (online marine retail store) and Quality Marine Clothing (uniform supplier specialising in Superyachts and all those that service them in the marine industry).
---
Natalie Godward
Regional Destination Specialist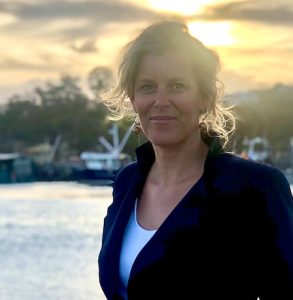 A passionate advocate for tourism and regional areas, Natalie is responsible for the development and growth of the Port of Eden and expanding regional port destinations throughout NSW through her role as Cruise Development Manager for the Port Authority of NSW.
Natalie has spent many years scoping the NSW coastline, identifying ports with the maritime capability to accept expeditions to large cruise visitation, including superyacht opportunities, working with local communities, stakeholders and tourism bodies to build destination experiences and promoting the ports to cruise lines and ground handlers to build visitation to these regional areas.   
Natalie held a founding position on the board of Destination Southern NSW, tasked with supporting the Southern region's tourism development, and prior to joining Port Authority, Natalie worked with Sapphire Coast Tourism to develop tourism experiences and build the value proposition of the destination.  Natalie is also an RFS Volunteer, is continually involved in many volunteer tourism and events committees, has also owned a small business, worked in corporate roles with Fairfax Digital and McCann Erickson and travelled the world, although not nearly enough if you ask her.
---
Jayson McDonald
CEO – Royal Motor Yacht Club Broken Bay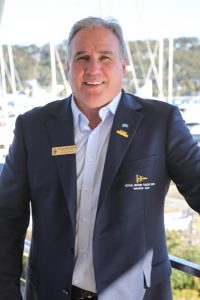 Sydney Born, Jayson McDonald grew up in Manly on the Northern Beaches and started his maritime career in the NSW Water Police based at Broken Bay. Leaving the Police Force to follow the ambition of becoming a Super Yacht Captain which started in 1990, Jayson still holds a current Master <35 NC qualification with ASMA and Local Knowledge of Sydney Harbour, Jayson has worked and continues to work extensively onboard private and commercial motor yachts up to fifty-two meters both in Australia and relieving with deliveries across the pacific.
Jayson has also spent five years within the NSW Port Authority as Master and Engineer on the Emergency Tugs both in Sydney Harbour and Port Botany. Life has not always been on the water, collaborating with many owners in their businesses as Project Manager of multiple and multimillion dollar projects from building, and logistics to business transformation including superyacht refits. Apart from Jayson's Maritime Qualification, he has qualifications in both Business and a double diploma in Project Management.
Married with two adult children and two grandchildren, Jayson took the reins of the Royal Motor Yacht Club Broken Bay as marina manager at the end of 2013, which swiftly followed by a transformation and redevelopment of the marina as part of the club's strategy to increase the capacity and size of the clubs berthing and to diversify the offering at the marinas facility for the larger boating needs and requirements. Promoted to CEO of the Royal Motor Yacht Club in March 2019. Jayson sits on the Marina Industry's Education Committee and now is extremely excited to be part of the Superyacht Australia (SYA) committee to continue his contribution to the Superyacht and boating industry.