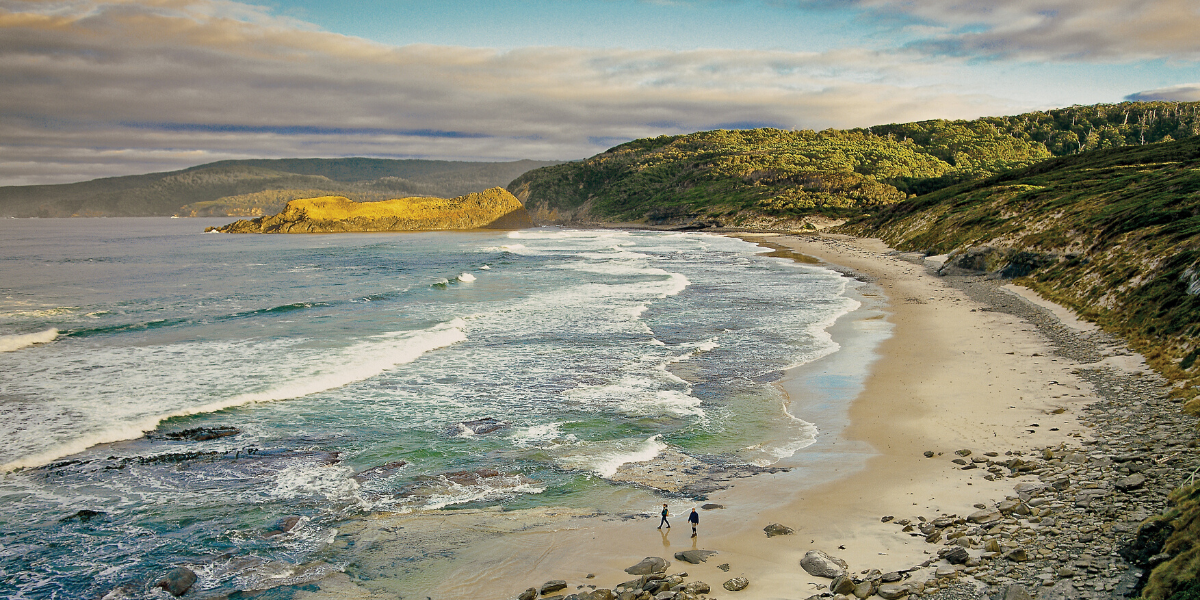 SOUTH EAST TASMANIA –  A HIDDEN GEM
If you're looking to escape for a week of peace and tranquillity, Tasmania should be on your 'top ten' list. 
South East Tasmania with its reputation of being a coastal wilderness is rich with breathtaking cruising grounds offering safe anchorages, white sandy beaches, superb diving spots, historic sites and quiet walks in national parks. Combine all this with spending a day or two in Hobart exploring the waterfront and experiencing contemporary eateries – known for their fresh produce and locally produced wines – makes visiting Tasmania  a holiday to remember.
The best time to go cruising in Tasmania is from late December to early April when the waters are still warm, summer is in full swing and it's perfect for taking advantage of the late light in the evenings.
For a week long cruise of the South East, there are two main cruising areas to choose from. Both depart from Tasmania's capital city of Hobart whether exploring the Huon River region or a cruise out to the East Coast including taking in the famous Wineglass Bay.  If you have more time, do both !
STAGE 1. HOBART – BARNES BAY
Day 1 Hobart
Enjoy Tasmania's capital city for a day walking through the local streets and experiencing the colourful waterfront restaurants offering freshly caught seafood all within easy access from the city centre. If you plan to visit over New Year make sure you join the crowds watching the yachts finish the Rolex Sydney to Hobart Yacht Race at Constitution Dock. A must-see local attraction is the now world-famous art museum MONA known for its avantgarde exhibitions through the summer and slightly darker events during the winter months. Located in Berridale, outside of Hobart, MONA is easily accessible by  water with its own wharf only a short 20 minute journey from the centre of Hobart.
---
Day 2 Hobart to Barnes Bay / Great Bay – Bruny Island (distance approx. 20 nm)
Leave Hobart heading south down the River Derwent into the D'Entrecasteaux Channel to Barnes Bay on the north end of Bruny Island. Barnes Bay provides safe and sheltered overnight anchorages in all weather conditions and Quarantine Bay next door is also a solid option. Go ashore for an easy peaceful walk exploring the island or anchor further south in Great Bay and be ferried ashore to local restaurants delivering top fare.
---
ITINERARY 1. HEAD SOUTH – INSIDE BRUNY ISLAND TO THE HUON VALLEY
Hobart – Barnes Bay – Cygnet – Dover – Recherche Bay – Great Taylors Bay – Hobart
Day 3 – Bruny Island to Cygnet / Huon River (approx. 20 nm)
Cygnet is a small local town on the eastern side of the Huon River and serves as the fruit growing centre of the valley. Go ashore for general shopping, craft shops, art studios and galleries and an award-winning winery at Gardners Bay. The Huon River has deep waters, offers picturesque views of the valley and is a popular fishing spot for anglers of all levels.  If last minute provisions are needed, dispatch a tender into the town of Kettering (opposite Barnes Bay) for further supplies.
---
Day 4 Cygnet to Dover (approx. 15 nm)
Claiming to be Australia's most southern town providing supplies, Dover is a historic fishing town located on the western side of D'Entrecasteaux Channel in Port Esperance. Kayak ashore onto Kent Beach and enjoy a beach walk taking in the view of the three islands of Faith, Hope and Charity in the bay.
---
Day 5 Dover to Recherché Bay (approx. 20 nm)
Recherche Bay provides easy access by water to the beautiful Cockle Creek area at the southern end of the bay and to the Nature Recreation Area via established walking tracks. Experience wide open isolated beaches with views back to Bruny Island.
---
Day 6 Recherche Bay to Great Taylors Bay (approx. 15 nm)
Take in the view of the heritage listed Cape Bruny Lighthouse, the second oldest in Australia en route around Partridge Island and into Great Taylors Bay.  Nestle deep into the bay to go ashore for the walk up the cliff trail to the lighthouse. Just north is Little Taylors Bay, also an easy anchorage and offers an optional visit to the old farming community township of Lunawanna. Look for Australian Fur Seals who haul out onto the rock shelves on Bruny Island in the early summer months.
---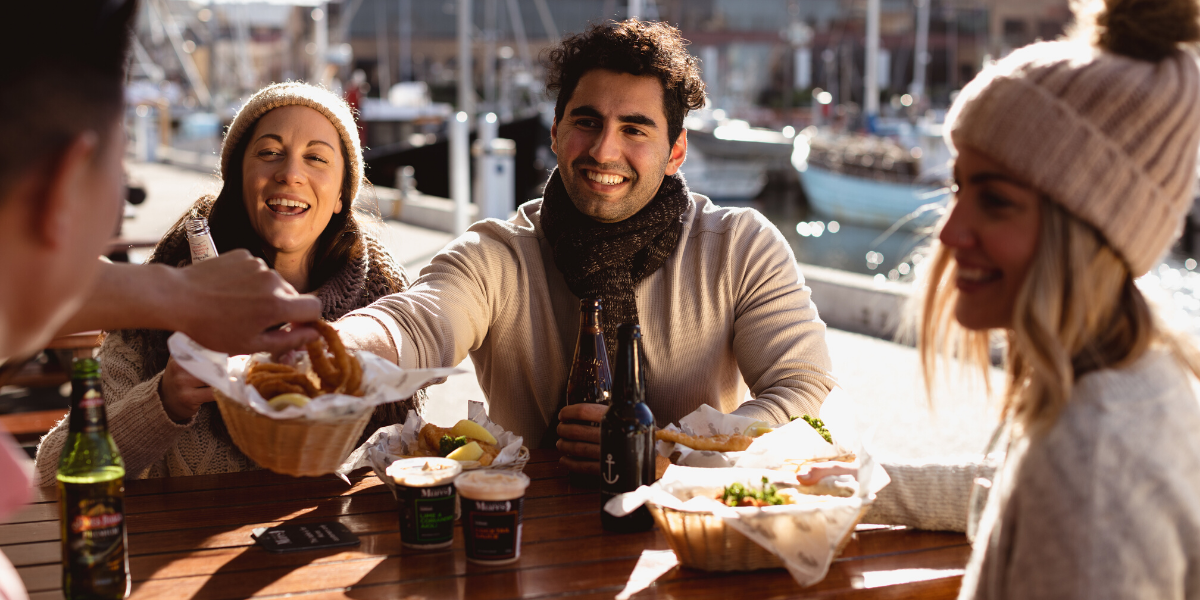 Day 7 Great Taylors Bay to Hobart (approx. 45 nm)
Return to the bustling port of Hobart taking in final views of the D'Entrecasteaux Channel. Transfer to the airport or stay on in Hobart for the night and enjoy drinks on the docks at a local bar followed by dinner at one of Hobart's finest establishments near the waterfront known for their Tasmanian produce and exceptional service. 
---
ITINERARY 2. HEAD NORTH EAST TO PORT ARTHUR – STORM BAY – FREYCINET NATIONAL PARK
Hobart – Barnes Bay – Port Arthur – Maria Island – Wineglass Bay – Schouten Island – Hobart
Day 3 – Barnes Bay to Port Arthur (approx. 35 nm)
Port Arthur is a small town located on a peninsular within a well-protected bay. On option is to spend an afternoon at the nearby historic site of the famous Port Arthur Penal Colony dating back to the 18th and 19th centuries.  Consisting of 11 remnant penal sites it is also a World Heritage property. At the entrance to Port Arthur, Tasman Island offers wonderful fishing opportunities and stunning views of geological rock formations.
An alternative but still outdoor option for the day, is to tackle the Shipstern Bluff Walk out past Cape Raoul.  The drive from Port Arthur to Stormlea, where the track starts is about 30 mins. The walk, though typically muddy and can be challenging, will deliver stunning views of the rugged southern coast and out to Shipstern Bluff,  well known in top surfing circles as one of the best and most challenging surf locations on the planet!  Either climb up and out onto the bluff or trek down onto the beach (both of which will be steep and rocky).  The climb to the bluff provides expansive views of the coastline but the descent to the beach allows up close and personal views of some of the best surf on the planet!
---
Day 4 – Port Arthur to Maria Island (approx. 50 nm)
Stay overnight at Maria Island in either Riedle Bay or Chinaman's Bay as both offer secure anchorages. Maria Island is a National Park managed by the Tasman Park and Wildlife Service. Visitors are welcome onshore (there is a regular ferry from Triabunna) to experience it's rich Indigenous and European history, abundant wildlife, spectacular views and remarkable geological features. 
---
Day 5 – Maria Island to Wineglass Bay (approx. 25 nm)
Leaving Maria Island, cruise north to the Freycinet National Park and into Wineglass Bay. Its natural elegant curve makes Wineglass Bay one of the more photographed locations in Tasmania. Go ashore to walk the beach and climb to the lookout to take in the expansive vista from above. Alternatively, stay inside Freycinet Peninsula and anchor in Coles Bay.  Go ashore for lunch at Saffire Freycinet, conveniently nestled in the native bush behind the beach offering views of the bay.
---
Day 6 – Wineglass Bay to Schouten Island (approx. 10 nm)
Stopover for a night on Schouten Island, at the southern end of Freycinet National Park en route to Hobart dropping anchor in Crocketts Bay at the northern end. The island is surrounded by cliffs but broken by these sheltered bays and is known for its snorkelling and kayaking with hikers.  Native birds breed on the island including Little Penguins and Short-tailed Shearwaters and Australian Fur Seals come ashore on the eastern side. An alternate stop en route to Hobart and south of Schouten Island is Pirates Bay where the northern end has the tessellated pavement rock formations and at the southern end there is a short walk out to Tasman Arch.
---
Day 7 – Schouten Island back to Hobart (approx. 95 nm)
Spend the day enjoying the journey south to Hobart, taking in the picturesque views of the east coast of Tasmania, Storm Bay and into the River Derwent.
---
With close to forty percent of Tasmania actively managed as national parks and reserves, these bedazzling landscapes with their coastal wilderness texture and isolated sandy beaches are permanently protected. Although the south east coast of Tasmania is within easy reach of major cities like Hobart, cruising these waters allows the opportunity to discover the captivating outlying islands and all they have to offer in your own time, soaking up their solitary beauty. 
As Captain Gerhard Vedman, from S/Y AquiJo commented recently after cruising these waters in early 2019: 
"Tasmania was a great surprise!  Both the guests and crew fell in love with its' isolated beauty. Tasmania is ideal for a two-week cruise as there are so many great and interesting sailing opportunities. The locals were really friendly and helpful plus keen to ensure we had a truly memorable experience. Tasmania is definitely a hidden gem." 
Thank you to: Edward Fader, Tasmanian Shipping Supplies; Captain Gerhard Vedman, S/Y AquiJo; Clare Roberts, M/Y Halo and Peter Fletcher, legendary local sailor for their contributions. 

Originally published in Superyacht Australia Magazine Issue 07 2019 | Updated: May 2020

For more information please visit the Tasmania Parks & Wildlife Service website (incl. the purchase of national park passes) at: www.parks.tas.gov.au/
Photography accreditations: Tourism Tasmania, Alastair Bett, Arcade Publications, Rob Burnett, Geoffrey Lea, Pierre Destribets, Port Arthur Historic Site Management Authority, Sean Scott, Popp Hackner Photography, Jason Charles Hill, Saffire Freycinet, Osborne Images.