Welcome to Southern Queensland
The Southern Queensland coast is an undiscovered region with an abundance of attractions for visitors to enjoy both on the water and onshore. With its sub-tropical climate, it ensures this region is a captivating destination to visit all year round. 
The Southern Queensland Superyacht Guide provides key information for superyachts planning on visiting locations from Gladstone and the Southern Great Barrier Reef in the north to Coolangatta on the Gold Coast in the south.
Southern Queensland is ready to receive visiting superyachts and looks forward to showcasing some truly unique experiences, first-class marinas and world-renown refit yards for those vessels cruising this undiscovered coast.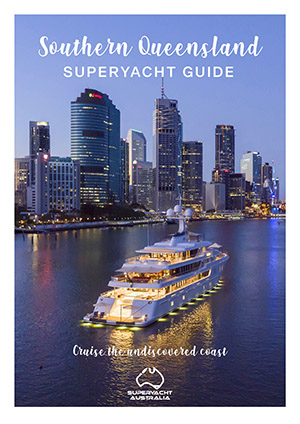 To visit the Southern Queensland Superyacht Guide e-book, click on the link below or the image alongside, then flip through the colourful pages and maps to learn more about cruising the local waters in this fascinating region. 
The e-book is easy to navigate page by page or via the word-search function and contains plenty of active hyperlinks to click through to a service;  you can also download the entire guide and add your own notes.
In July 2021, Brisbane was announced as the host city for the 2032 Summer Olympic games. The Brisbane River already provides superyachts the ability to berth or moor downtown on the river which is relatively unique for an Olympics host city. This makes it very attractive for owners looking to relocate their yacht as their private base for the Olympic Games. Moreton Island and North Stradbroke Island are just two of the stunning destinations to cruise when visiting close-by Moreton Bay. Discover the surrounding areas too as there are plenty of exciting activities on offer as well as city luxuries for guests to indulge in. 
To view the winning bid video, click here. 
The Southern Queensland Superyacht Guide contains information on top attractions for each destination, including: 
Isolated islands on the Southern Great Barrier Reef
Up close whale watching experiences on the Fraser Coast
Deserted white sandy beaches on the Sunshine Coast 
Exploring Brisbane by river while enjoying the busy city nightlife
Quiet remote anchorages at Moreton Island, Moreton Bay
Gondwana rainforests in Springbrook National Park
Australian native animals at Currumbin Wildlife Sanctuary
Top surfing spots at Snapper Rocks on the Gold Coast.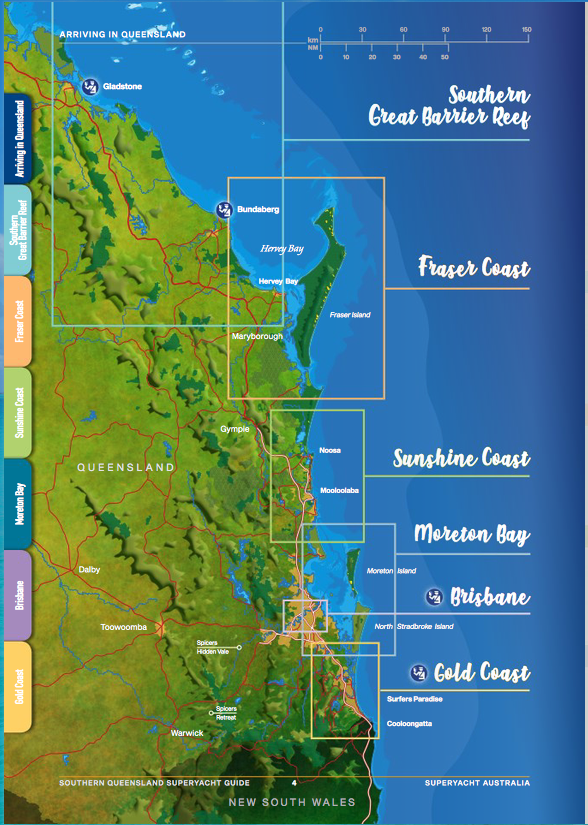 The guide also provides comprehensive information for captains and crew on: 
Port clearance locations
Superyacht marinas and their services
The world-class superyacht refit and repair yards located in Brisbane and the Gold Coast
Lists and links for on-site and locally-based marine services, including crew focused facilities
Locally based vessel agents
Maritime authorities and marine rescue organisations
For further enquiries on the Southern Queensland Superyacht Guide, please contact jcooper@aimex.asn.au.
Images on this page are courtesy of Rivergate Marina and Shipyard for the banner image and Tourism and Events Queensland for all other images.