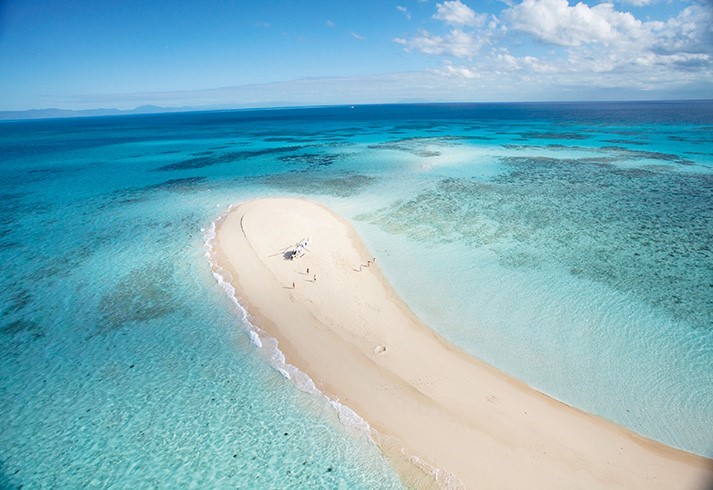 Vlassof Cay, Great Barrier Reef
Great Barrier Reef Region Superyacht Guide
To access the Great Barrier Reef Region Superyacht Guide produced by the Super Yacht Group Great Barrier Reef, click here.
CAIRNS
Set proudly in the 'Sunshine State' of Queensland, cultured Cairns is the gateway to many of Australia's famous UNESCO sites, including the Great Barrier Reef, the Whitsunday Islands, Fraser Island and Queensland's tropical north.
Day One: Opal Reef
After a few days spent exploring the city of Cairns, start your onward journey by meeting the superyacht at Cairns Marlin Marina. Settle in and enjoy a leisurely lunch aboard while the crew gets the yacht underway to Opal Reef to the northeast, marking the first of many opportunities to see and experience the Great Barrier Reef (GBR).
At 348,700sqkm, you could spend forever exploring the 2,900-plus individual reefs, 300 coral cays and 600 continental islands that make up the GBR, but Opal Reef is a great place to start. This large and shallow dive site has ample variety of sites and species to explore. Crescent-shaped, you'll be largely protected from the prevailing wind on the inner side allowing you to spend the day exploring the changing ecosystems of the 12 or more dive sites that make up Opal, before enjoying a peaceful night's rest at anchor with good food and great company.
The Reef is best experienced during the summer months when the winds are low and the visibility is good, but comfortable water temperatures make it accessible all year around. It is the only place in the world where the spectacular coral spawning can be accurately predicted and witnessed. Visit at the right time of year and you'll find this stunning show taking place; here in the outer reef, it occurs in November and December, while it's slightly earlier in the inner reef during October.
Day Two: Agincourt, Escape and the Ribbon Reefs
Awake to the sounds of the ocean and soak up the scenic cruise north along the inside of the Great Barrier Reef to the Agincourt Reefs where you'll snorkel and kayak at your leisure while enjoying a lazy breakfast buffet.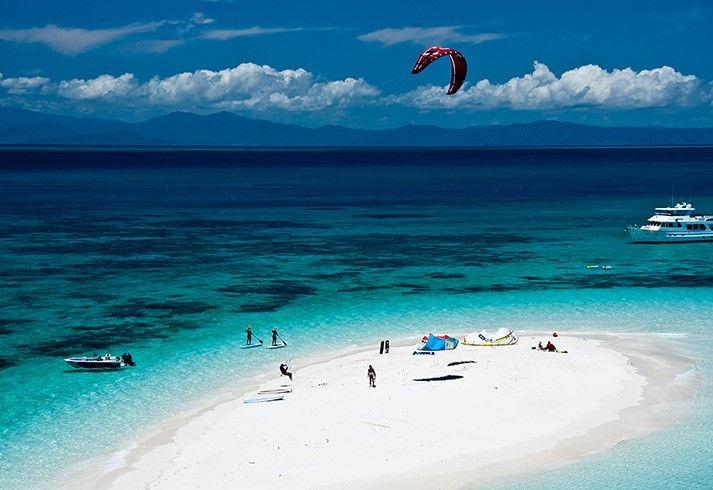 Watersports on the Reef
Afterward, hop to the next reef to meet your fishing charter and local guide for a day of deep-sea game fishing at Escape Reef before heading on to the Ribbon Reefs to begin a couple more days of spectacular diving. There are more varieties of fish living on the GBR than in any other marine ecosystem on earth, so you are likely to see, meet and catch bigger and more diverse varieties of fish than anywhere else on earth.
When the heat gets too much, take a plunge into the waters at 'Steve's Bommie'; a legendary dive site and isolated pinnacle southwest of Ribbon Reef No.3. Here you'll be surrounded by large schools of pelagic fish and gardens of hard and soft coral. Seek out Steve Bommie's memorial plaque at 25m and look out for cruising Barracuda and White Tip Reef Shark; you'll enjoy views of numerous large coral heads within the lagoon, and a tremendous variety of colourful tropical fish.
If visiting in June or July, it's worthwhile taking a visit to Ribbon Reef No.5, known as 'Andy's Postcard'. Here guests may be lucky enough to see dozens of migrating Minke Whales who often swim up to the yacht's stern, allowing you to join them in the water for the firsthand experience of a lifetime.
Enjoy the sunset on the deck while the crew prepares a feast of your freshly caught fish from the day, to eat while appreciating the changing southern sky, which provides a great opportunity for stargazing from the deck.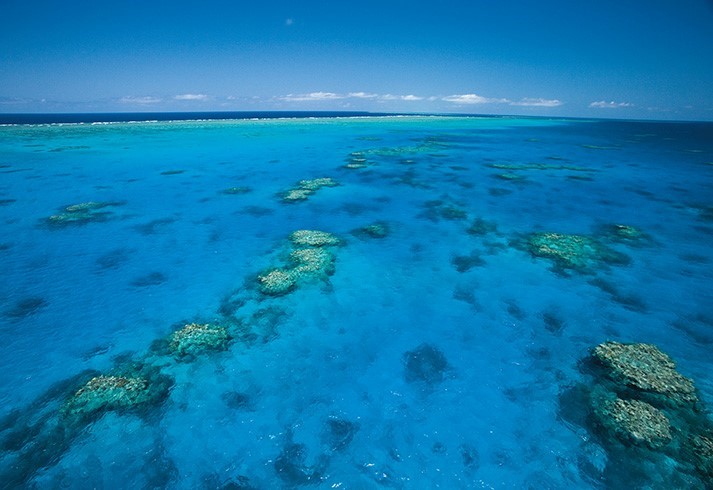 Day Three: Pixie's Reef and Lizard Island
Schedule the crew to move the boat overnight for an early arrival at Pixie's Reef between Ribbon Reefs 9 and 10 – renowned for its exceptional underwater photography. There are a number of different dive sites here for those of varying diving abilities, including Pixie's Cave, Pixie Gardens and Pixie Pinnacle.
Lunch today will be enjoyed at anchor at Dynamite Pass, with the afternoon spent snorkeling another world-class dive at Cod Hole alongside Australia's infamous Giant Potato Cod who are well used to friendly divers and can be handfed.
A sunset cruise to Lizard Island will follow, allowing you to feel the heat of the Australian sunshine. Arrive at Lizard Island, the largest of six islands making up the Lizard Island National Park, and anchor in the picturesque Watson's Bay for the night. Entertainment for the evening will be provided by the yacht's underwater lights, which should attract huge Grouper and schools of Trevally off the stern all night long.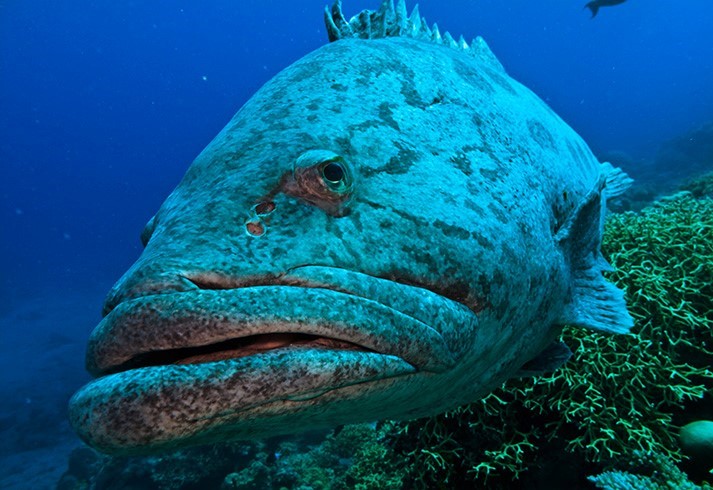 Day Four: Cooktown
An early start will afford you the best morning swim from your anchor at Watson's Bay, and a view of the enchanting Clam Garden with its sea of 'giant' clams. Climb aboard to get underway to the mainland for an excursion to Cooktown – a quaint town and the site of Australia's first indigenous settlement.
Tender ashore to climb the 162m up Grassy Hill – Captain Cook's Lookout, for 360-degree scenic views out across the Southwest Rocks. Between May and July and August and October you might catch sight of Humpback Whales and dolphin as they swim past the headland, and many species of birdlife and wild flower can also be spotted.
There are plenty of cultural sites to indulge in in Cooktown, including the Cooktown Light active lighthouse, the James Cook Historical Museum, Natures Powerhouse and the Botanical Gardens to name but a few.
Alternatively, take a walk along one of the many walking trails to Walkers Bay – a beautiful setting for a picnic lunch. There's opportunity for windsurfing or beach volleyball here, but finish in good time to make the most of the daylight with a short scenic helicopter ride before sunset to really appreciate the panoramic colours of the reef from above the waterline.
In the evening enjoy music and cocktails on the fly bridge deck as the sun sets before heading south on the yacht overnight.
Day Five: Mackay Sand Cay and Daintree National Park
Start the day with a relaxing swim in the turquoise shallows of the Mackay Reef and then refuel with a solitary breakfast ashore the picturesque Mackay Sand Cay. Take a little time to relax and appreciate what may be the last of the Great Barrier Reef as the afternoon will be a busy one on the mainland.
Heading west to the coast, you'll want to take a private tour of the rainforest scenery of theDaintree National Park and Cape Tribulation. The Daintree Rainforest contains the oldest surviving rainforest in the world, littered with mountainous scenery and breathtaking sights and experiences. The best time to take a rainforest tour is in Australia's summer, between December and February when it's at its most luxurious with the rivers and waterfalls flowing.
Day Six: Port Douglas and Kuranda
Spend the morning exploring Port Douglas eating, shopping at the boutiques or relaxing at one of the town's fantastic day spas. Further south at Kuranda you'll be able to take a ride of the Skyrail Rainforest Cableway or Kuranda Railway, and white water raft along the Tully River.
Day Seven: Onward…
Your final days in Queensland offer a range of further places to explore and sights to see. Enjoy outstanding service standards at the private Double Island retreat, which, accessible by launch or helicopter, allows you to spend time relaxing in oversized hammocks hung in the trees, or relaxing in the meditative Zen Garden; visit the remote and obscure region of Kimberley, which, practically undiscovered is home to the famous Horizontal Waterfalls, Kings Cascades, the Mitchell Plateau and 40,000-year-old hidden Bradshaw Art; or travel by land to Milla Milla Falls or the Undara Lava Tubes, which span 1,300km.
Heading south aboard, you'll arrive at Airlie Beach – the gateway to the Whitsunday Islands, or further afield, Fraser Island; the world's largest sand island.
CAIRNS AND GREAT BARRIER REEF – SUPERYACHT GUIDE
A Great Barrier Reef yacht charter is a diver's dream, with some of the world's most pristine sites ripe for exploring. It is also a great place to enjoy a relaxed family vacation, with rainforests, historical towns and aboriginal heritage along the way. Enjoy 10 days in Australia's stunning Queensland coastline and network of reefs.
Captain Duncan Smith of MY MYSTIC TIDE has prepared a sample Great Barrier Reef yacht charter itinerary to show you what you can expect of this incredible region.
ITINERARY
DAY 1   CAIRNS – LOW ISLES
Join your yacht charter of the Great Barrier Reef in the cosmopolitan city of Cairns, and set a course for north towards the exciting adventure that awaits. First stop is the Low Isles, some 35 nautical miles from Cairns, at the marine state park where you will enjoy lunch at anchor before putting on a snorkel and swimming with the local population of sea turtles at the end of the reef. A trip ashore and a walk along the nature trail takes you to the island's lighthouse, from which you can enjoy sundown with views of the Tableland Mountains of the mainland on the horizon.
DAY 2   OPAL REEF
Head to the protected Opal Reef for the first taste of the outer Great Barrier Reef which is home to an extraordinary abundance of tropical sea life. Whether you are snorkelling or scuba diving, you will be richly rewarded. In the afternoon, head out in the tender for some sport fishing or simply unwind on board and enjoy the peaceful anchorage, as you are protected from the Coral Sea by the outer reef.
DAY 3   RIBBON REEFS
Making your way into the Great Barrier Reef, the first stop is the Ribbon Reefs, which offer fantastic diving sites like the pinnacle at Steve's Bommie, home to hard and soft corals as well as many pelagic fish species. Snorkelers will be enchanted by the coral heads in the protected lagoon. After a fresh fish lunch on board, the scuba divers in your group will head to Ribbon Reef No. 5, or Andy's Postcard, for another memorable dive. Those left on board can grab a pair of binoculars and look out for the migrating Minke whales that pass by – sometimes just metres from the yacht – in June and July. Put on your snorkel and mask and swim next to these majestic sea mammals.
DAY 4   DIVING DAY
Another day, another world-class diving or snorkelling opportunity. Spend the day in the water at Pixie's Pinnacle, Dynamite Pass and Cod Hole, with lunch on board between dives. As evening draws in, the yacht will set a course for Lizard Island where it will anchor in Watson's Bay for dinner under the star-packed sky.
DAY 5   LIZARD ISLAND
After breakfast on board and an early morning swim, head ashore in the tender for a walk up to Cook's Lookout, the highest point on Lizard Island, and then on to the 'Blue Lagoon' on the other side of the island where you will enjoy a delicious picnic lunch set up by the crew. After lunch, have a little snorkel in the sheltered bay's clam gardens or play some beach games, before heading back out on a deep sea fishing trip or a visit to the Snake Pit dive site. After a busy day, enjoy a fun themed dinner on board before the yacht weighs anchor and sets off towards Stanley Island in the Flinders Group, the northernmost point of your charter in the Great Barrier Reef.
DAY 6   STOKES BAY & BATHURST HEAD
A trip ashore at Stokes Bay will reveal the remarkable aboriginal cave paintings in the national park. Explore the local flora and fauna before cruising on to Bathurst Head in Prince Charlotte Bay in time for lunch and an afternoon snorkel or fishing for barramundi in the Normanby River.
DAY 7   COOKTOWN
On the return leg of the trip south, stop in the late morning at Cooktown, famous landfall of Captain Cook. From here you can take a 4-wheel drive inland to the Wet Tropics of Queensland, a tropical rainforest with huge ferns and trees, marsupials and singing birds. Return to your yacht for a delicious meal of fresh fish and lobster cooked by the chef.
DAY 8   ESCAPE REEF
Time to get back in the water! The snorkelling and scuba diving around Escape Reef is truly remarkable and a little afternoon fishing will no doubt provide fun as well as the ingredients for a delicious dinner.
DAY 9   PORT DOUGLAS
After breakfast and an early morning swim, a visit ashore at the Mackay Sand Cay to the World Heritage listed Daintree National Park rainforest is a must. Marvel at the indigenous bird species and the beautiful tropical plants. Moving on to Port Douglas, there is a choice of excellent restaurants for a late lunch in this fashionable port, as well as shopping, an excellent day spa and golf course. Slip the dock lines before sunset and enjoy an evening cruise to a quiet anchorage from which you can enjoy the final night of your magical Great Barrier Reef yacht charter. The crew may put together a fun themed night to celebrate.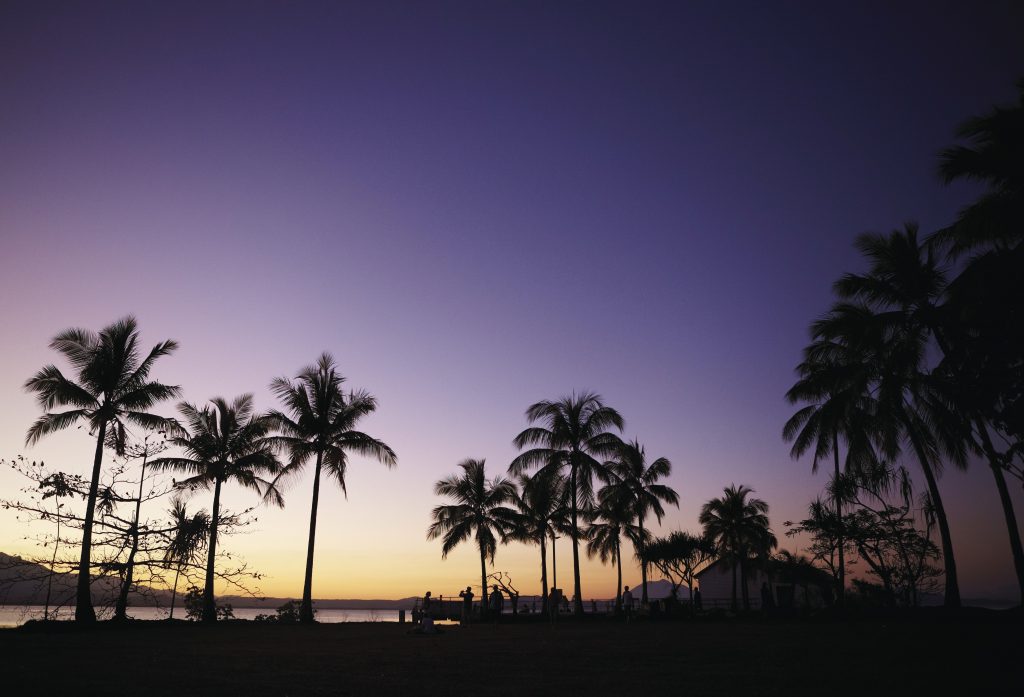 DAY 10   PALM COVE & CAIRNS
On your final day, head south to Cairns by way of Palm Cove and enjoy a little retail therapy or a walk by the beach, before you return to the Cairns Marlin Marina and bid farewell to your crew and yacht.
Itinerary provided by Fraser Yachts, for further information please contact Australia@fraseryachts.com 
GREAT BARRIER REEF
Day 1: Cairns to North Opal via Upolo Cay, Green Island, Norman Reef
Shimmering crystal-like coral cay appears as though a mirage as the boat passes World Heritage Reef. A glass of champagne on the soft shores of Upolo Cay before visiting the impressive Quicksilver pontoon for an afternoon scenic flight over the Great Barrier Reef.
Day 2: North Opal to North Escape Reef
Enjoy a deep sea fishing expedition or take to the turquoise waters on a paddle ski and float with turtles and manta rays for an experience to remember.
Day 3:
* North Escape to No 7 Ribbon Reef
* North Escape Reef to Cooktown
* North Escape Reef to No 3 Ribbon Reef
Enjoy impeccable dive sites or cruise to historical Cooktown offering
a fascinating glimpse into the history of Australia.
Day 4: Previous day's departure point to No Name Reef Via dive sites at No 7, No 9, No 10 and Cormorant Pass
Witness the world renowned Cod Hole, spectacular reef drop offs and a marine life so alive, it will leave you breathless.
Day 5 – 7:
* Steam to Osprey Reef and go diving in the pristine waters of the Coral Sea or;
* Steam to Lizard Island and enjoy the activities the Island has to offer
Choose from world class diving sites of the Coral Sea or succumb to tropical decadence at the exclusive Lizard Island Resort.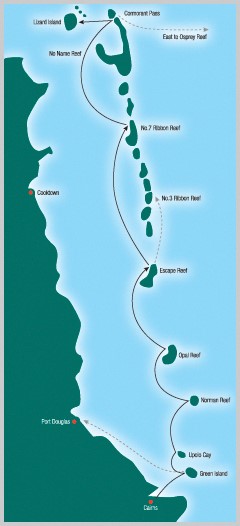 WHITSUNDAY ISLANDS & GREAT BARRIER REEF
Key Tourism Attractions
Whitehaven Beach – Voted best beach in Australia
Great Barrier Reef – Scuba Diving/Snorkelling
Eungella National Park/Whitsunday Mainland Coast
74 Whitsunday Islands to Explore
Ngaro Sea Trial – Indigenous History
Whale Watching (June – October)
Cruising Highlights
Guests berthing at the Hamilton Island marina are able to travel to the world-famous Whitehaven Beach, which is a short 12 nautical mile voyage from Hamilton Island through Solway passage. Whitehaven Beach is frequently recognised as one of the best beaches in the world, and boasts fine white silica sand and calm, azure waters. When at Whitehaven Beach a must do is to explore the iconic Hill Inlet walking trail, which provides access to breathtaking views of the Whitsunday Islands.
Another location close to Hamilton Island is Cid Harbour, which is a secluded and protected anchorage on the western side of Whitsunday Island. While at Cid Harbour visitors can explore the rainforest walking trails between the beaches, with one being a one-hour trail to Whitsunday Peak which offers awe-inspiring 360 degree views.
Located on the North Western side of Hook Island is Stonehaven, another sheltered anchorage which promises a spectacular sunset for those who visit. Stonehaven is a short tender ride to some of the best snorkelling spots in the Whitsundays, including Butterfly Bay and Manta Ray Bay on Hook Island. Another location to explore on Hook Island is Nara Inlet, which is protected and has a national park walking trail featuring historical Indigenous caves and paintings.
For those guests wanting to stay on Hamilton Island and relax, Hamilton Island Air offers a series of seaplane and helicopter tours to the Great Barrier Reef and Whitehaven Beach.
Day 1: Hamilton Island
Hamilton Island to Cid Harbour anchoring in the calm waters of this deep anchorage location, beach walks, swimming, enjoy the pristine surroundings of the magnificent Whitsunday Islands.
Day 2: Hamilton Island to Hayman Island
Cid Harbour to Nara Inlet – walk to the aboriginal cave paintings, swim and soak up the sun on another calm anchorage nestled between the steep slopes of Hook Island, steam from Nara to Hayman Island – visiting world class resort facilities, diving or snorkelling at Blue Pearl Bay.
Day 3: Sea Plane to Hardy Lagoon at Hardy Reef from Hayman Island
OR Steam to Hardy Lagoon, Hardy Reef and enjoy the activities on offer at the Fantasy Pontoon – diving, snorkelling, helicopter view of the reef, glass bottom boats etc. Visit or anchor at Black Reef.
Day 4: Hayman Island / Black Reef to Hamilton Island
Steam back towards the Islands visiting Whitehaven Beach, Solway Pass, returning to Hamilton Island to enjoy the activities on offer at the island.
10 Day Whitsunday Adventure Itinerary
Your voyage starts at the award-winning Coral Sea Marina Resort and takes you on a complete Whitsunday experience. Incorporating many of the newly opened superyacht anchorages, this itinerary can easily be extended for 14 days or more, if time permits.
 DAY 1 – 2: Coral Sea Marina Resort/ Macona Inlet/ Luncheon Bay
Fly into the Whitsunday Coast Airport and enjoy a private helicopter service taking you directly to Coral Sea Marina Resort where your yacht awaits. This world class marina has a concierge service committed to ensuring your boating experience has minimum hassle and maximum pleasure.
From here it's a short 2.5 hour cruise past Pioneer Point and cross the Whitsunday Passage to your first night's destination at Macona Inlet on Hook Island. The next day check out Luncheon Bay on Hook island for its exceptional snorkelling opportunities, coral gardens and teaming fish life.
DAY 2 – 4: Blue Pearl Bay/ Stonehaven/ Langford Island
From Luncheon Bay head to Blue Pearl Bay, a stunning location which again offers amazing snorkelling with an abundance of fish and corals, said to be some of the best the Whitsundays islands have to offer. Continue on your adventure to Stonehaven and anchor up for the night.
The next morning it's an easy 30-minute cruise in the tender over to Langford Island where you can explore the coral cay and the fringing reef. Stroll on the sandy beach before heading approximately 3-hours to Hamilton Island.
DAY 5 – 6: Hamilton Island/ Turtle Bay/ Chance Bay
Your next stop for overnight is Hamilton Island. This modern resort island has boutiques, an exceptional day spa experience at luxury resort, qualia and plenty of restaurants to choose from. For those golf lovers, take the short trip to Dent island and enjoy 18 holes with a stunning view of the islands and then lunch at the club house.
Leave Hamilton island and head for Turtle or Chance bay on Whitsunday island, accessing the walking track of the Ngaro Sea Trial from Chance Bay to Whitehaven Beach and follow in the footsteps of the elders of the Ngaro Tribe, traditional owners of the Whitsunday islands.
DAY 7 – 8: Shaw Island/ Thomas Island/ Lindeman Island
From Chance Bay travel south to Burning Point on Shaw Island before exploring Gap Beach and the national park walking tracks on Lindeman Island. If you are looking for seclusion the southern anchorages on Thomas and Shaw Islands will suit you perfectly.
A relaxing picnic on the beach or long lunch on the deck are in order, as you enjoy the tranquility of these secluded waters.
DAY 9 – 10: Whitehaven Beach/ Tongue Bay/ Coral Sea Marina Resort
Enjoy a leisurely breakfast at Thomas Island before making your way to the iconic Whitehaven Beach, acclaimed as the best beach in Australia, with 5 kilometres of sparkling white sand made up of 98% silica a legacy of a geologic era when the sea level was lower. From Whitehaven anchor at Tongue Bay and enjoy the walk through the rainforest to the interpretive viewing platform overlooking the swirling sands of Hill Inlet. Arrange for the tender to collect you from Betty's Beach and relax on deck, before heading back into Coral Sea Marina Resort.