SUPERYACHT AUSTRALIA MAGAZINE
SUPERYACHT AUSTRALIA magazine is a high quality must-read publication featuring editorial articles providing up-to-date information about Australia's superyacht facilities; unique cruising grounds; and product and service providers ready to engage with visiting superyachts to Australia. It also contains a 'Service Capabilities' directory section listing our members, their local contact information and the services they provide. The magazine was developed to communicate the full suite of activities within the Australian superyacht sector to the industry globally and provide key industry stakeholders, captains, and owners with the most current information.
With the current issue – Issue 10 – the publication covers 2022/2023 and was launched at the annual Monaco Yacht Show 2022 held in late September. Distributed world-wide, copies are available at major superyacht and marine related boat shows. It is also available to international media and superyacht industry networks around the world.
---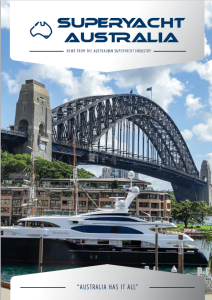 ISSUE 10 – 2022/2023 View the digital version in Flipping Book here.
ISSUE 10 of Superyacht Australia magazine covers the stunning islands of the Southern Great Barrier Reef combined with onshore activities in coastal towns; the rugged wilderness of the Sapphire Coast in southern New South Wales; plus a visit to the picturesque islands of Vanuatu in the South Pacific where diving and cultural experiences abound. 
The magazine also looks at new marinas with superyachts capabilities and services; updates from the major superyacht service and maintenance yards; the Fremantle Boat Show and Seafood Festival in Western Australia in March 2023; an introduction to 'The Yacht Life'; and an interview with Managing Director of One2three Naval Architects, Steve Quigley on trimaran hull configuration.
Also included is a line-up of recommended A-list guides that contain all the information and service contacts a superyacht may require while en route to and once in the South Pacific region.
---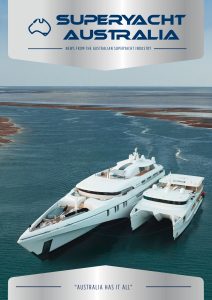 ISSUE 9 – 2021/2022 View the digital version in Flipping Book here.
Issue 9 of Superyacht Australia magazine front cover features 84m M/Y White Rabbit with shadow vessel 46m M/Y Charley. Both vessels were designed by Australian Sam Sorgiovanni and built by Western Australian based Echo Yachts with One2Three Naval Architects designing the hull superstructure for White Rabbit. Inside the magazine destination articles include cruising the coast of Western Australia from Esperance on the south coast through to the Kimberley and Rowley Shoals in the north accompanied by the 'must do' top attractions for each stopover; how and why to visit one of Australia's hidden gems – the stunning Torres Strait Islands; and why Newcastle shines as a superyacht hub and destination. Australia's reputation as a leading centre for marine maintenance and refit specialists also features with updates from key service providers on their more recent expansions both in footprint and capacity; and the Gold Coast eagerly awaits the opening of the Southport Yacht Club's new megayacht berth. 
---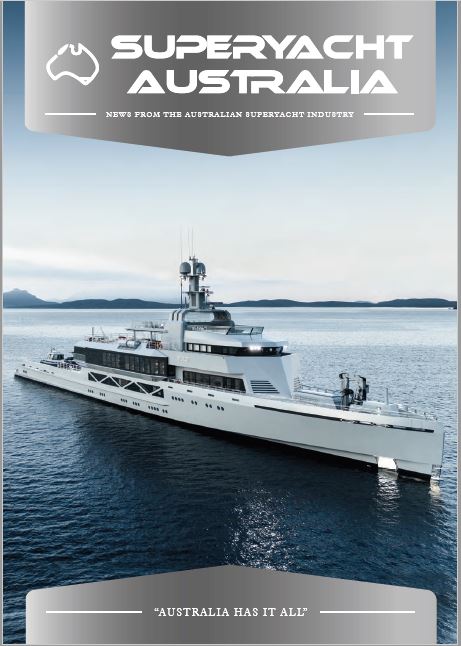 ISSUE 8 – 2020/2021 View the digital version in Flipping Book here.
Issue 8 of Superyacht Australia magazine features destinations on cruising the Sepik River on the northern coast of Papua New Guinea; article on guests looking for isolation ashore and where to enjoy luxury accommodation when visiting the Great Barrier Reef islands. For other visitors keen for an immersive Indigenous cultural experience, find out more about the Laura Dance Festival and visiting the ancient Quinkan Country rock art. Cruising the Kimberley in Western Australia also features. Australian superyacht marinas continue to expand catering for larger vessels in particular the upcoming mega-berth at Southport Yacht Club. Australia's refit and maintenance sector is experiencing a boom across the country plus there is a list of local endorsed agents to support foreign flagged superyachts when applying for a Coastal Trading Temporary License.
---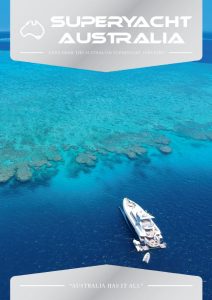 ISSUE 7 – 2019/2020 View the digital version here
Issue 7 of Superyacht Australia magazine kicks off with an excellent 10-day cruising itinerary of the Solomon Islands from Captain Martin Debanks, MY Spirit. Next up is a profile on Maritime Cook Islands, a new register for ships and yachts. Don't miss the stunning events to experience from the water on Sydney Harbour and the enticing event calendar to be part of when in Melbourne including the Australian Open and the Melbourne Cup. Tasmania is a hidden gem and one not to be missed with two stunning 7-day cruising itineraries to choose from. On the Great Barrier Reef, learn how visitors from superyachts can engage with reef scientists. Local reports, industry news and events plus lead up articles to the Tokyo Olympics and the Americas Cup; and the directory of superyacht services available is included in the rear section.
---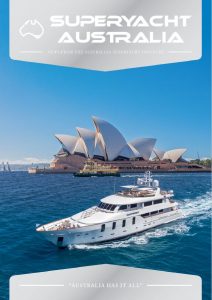 ISSUE 6 – 2018/2019  View the digital version here
Issue 6 of Superyacht Australia magazine opens with an interview with Captain Michael Gooding, MY Silentworld where he shares his favourite cruising grounds in Australia and the great work being undertaken by the Silentworld Foundation. Discover Australia's signature experiences with information on high-end luxury lodges tucked away for adventure such as the Great Walks of Australia, and others that offer tranquility for those who prefer quieter escapes.  An update on the charter industry in Australia is also featured and includes a summary of how to book a charter for those who are new to the experience. This issue also contains a detailed 10-day itinerary for cruising the Great Barrier Reef; where to go sportfishing; an itinerary for a 4-day cruise around Sydney; and updates on refit and repair infrastructure from key shipyards and much more. 
---