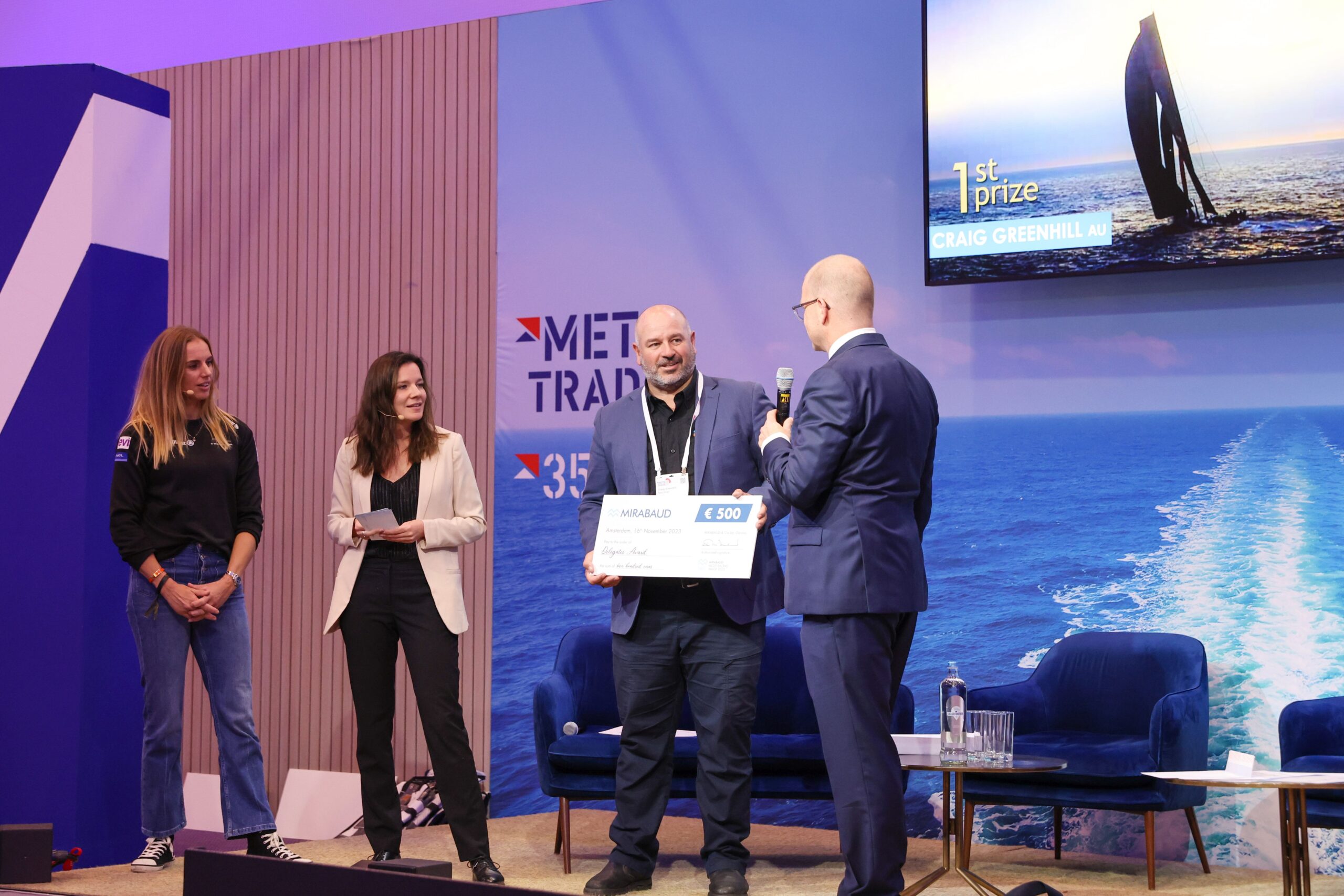 Australian photographic and videography agency Salty Dingo has won the Yacht Racing Forum Award ('The Delegates Award') in the 2023 Mirabaud Yachting Image Awards.
The Mirabaud Yacht Racing Image Awards, open to professional yacht racing photographers from around the world, attracted entries from 144 photographers from 30 nations this year.
Salty Dingo Co-Founder Craig Greenhill's image of supermaxi Hamilton Island Wild Oats competing in the 2022 Rolex Sydney Hobart Yacht Race proved a winner for delegates attending World Sailing's annual conference and marine trade show Metstrade in The Netherlands.
Accepting the award in Amsterdam, Craig explained the story behind the hauntingly beautiful image of Hamilton Island Wild Oats (Wild Oats XI) surrounded by mist in the middle of the Tasman Sea.
"We'd been searching the ocean in a helicopter under a thick blanket of sea fog and it took three attempts to locate the yacht 40 nautical miles off the coast of Tasmania," explained Craig.
"On the last attempt, we spotted a shape on the horizon – the yacht we were looking for. As we got closer, the sun broke through the fog, silhouetting supermaxi Hamilton Island Wild Oats, producing this magical moment. 
The Mirabaud award adds a much-treasured sailing photography honour to Craig's career highlights, including two Walkley awards for Excellence in Journalism, two Kennedy awards, three News Corporation Photographer of the Year awards and a PANPA award.
"The Mirabaud Awards recognises the extraordinary commitment and passion of sailing and marine photographers all around the world," said Craig.
"These photographers put their bodies and their equipment on the line, often in the worst of conditions, to capture amazing images. I'm really proud to be part of this group of dedicated and talented professionals who love the world of sailing."
The award also brought a childhood dream to life for Craig when, just before his photograph was announced as a winner, he met the man whose image was his inspiration to pursue a career in sailing photography.
"Michael Kurtz took a legendary photograph of Alan Bond with Australia II as it was being lifted out of the water to reveal the winged keel after winning the 1983 America's Cup," said Craig.
"That moment in history inspired my love for sailing and yachting photography – it was such an honour and a special connection to meet Michael at the Mirabaud Awards and to accept an award in his influential presence."
Mark Richards, skipper of Hamilton Island Wild Oats, sent congratulations. "We are thrilled that Craig's amazing work has been recognised with this award – not only is it a great shot with an epic back story, but it also captures the nature of the Sydney to Hobart, and just how lonely the battle to the finish line can be," said Mark.
Craig would like to thank the delegates of METSTRADE 2023, especially The Australian International Marine Export Group (AIMEX) led by CEO David Good.
CONTACT:  Craig Greenhill, Salty Dingo   +61 438 302 040    craig@saltydingo.com.au