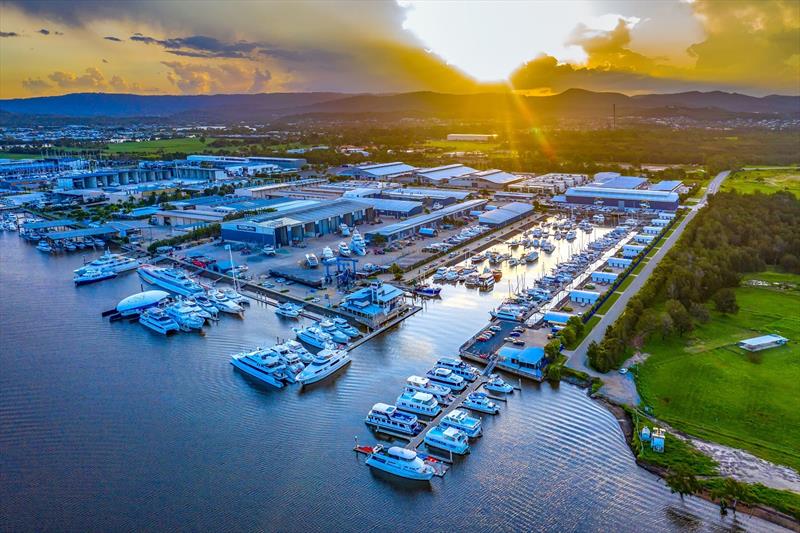 By Clare Wray 
After the successful completion of the undercover work bays, Gold Coast City Marina & Shipyard (GCCM) has begun the construction of new showrooms as the site continues to grow.
The new marine hub is currently under construction and due for completion in August 2020. As a response to the growing demand for multi-use business units within the site, GCCM has committed to building three units that will provide new premises for leading marine contractors, adding to the 80 marine businesses already onsite.
The new units are in a prominent location at the entrance of the 17.5-hectare facility. Comprising of a retail showroom with office space at the front and workshop at the rear, the design offers customer exposure through a highly visible frontage as well as easy access to the boat ramp, dry storage and refit sheds through the workshop. The units are 240sqm each and there is the option of tailored layouts to serve differing needs.
"GCCM is a boatyard that accommodates marine craft from jet ski to superyacht and we continue to grow and attract leading marine contractors. These new units are designed to address the needs of businesses that operate a retail and service function who need frontage but prime access to the shipyard facilities," explained Luke McCaul, General Manager of Customer Experience and Facilities Management.
GCCM is celebrating its 20th year of operations in 2020 and, through the last two decades, has continued to invest in the site making it the most awarded shipyard and marina in Australia. The new marine hub comes immediately after the completion of undercover work bays plus significant investments, in recent years, to increase the lifting capacity of the yard plus services and amenities for boat owners and crew. Future investment plans include a Stage 2 development, which will more than double the size and lifting capacity of GCCM, are also currently in design and approval.
GCCM is accepting expressions of interest on the new units which will be available from August 2020. All enquiries should be directed to Luke McCaul via Ph: +61 (0)408 758 882 or luke@gccm.com.au.