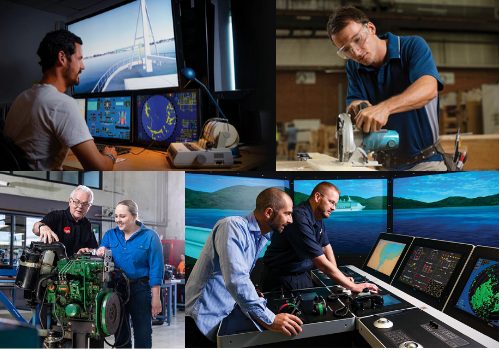 TAFE Queensland, in partnership with the Department of State Development, Tourism and Innovation (DSDTI), requests your help through this survey, to accurately capture the impacts of COVID-19 on the employment, skills and training areas of your business. The results for this survey will be used to develop employment, skills and training packages/programs that will assist the Queensland maritime industry to address the identified challenges.
After establishing several marine industry training and careers programs on the Gold Coast during an 18-month project with TAFE Queensland – Gold Coast region, Adam Chanter is  expanding his focus with a new project that will roll out similar programs across Queensland.
Working with the Queensland government, and supported by industry, the previous project delivered on over 350 fully-funded training positions, which included Diplomas, non-accredited leadership programs and short courses, plus 100 new entrants were welcomed into marine-focused vocational training in welding, CAD, timber, lamination and fibre glassing, including early engagement with a future workforce with  high school focussed pre-employment initiatives.
The next phase of the program, in alignment with the Queensland Superyacht Strategy and with the support of the BIA, MIA, Superyacht Australia, Rivergate Marina and the AI Group, will expand the initiative and replicate programs in Cairns, McKay-Whitsundays, Brisbane and the Gold Coast.
"It's vital to have industry on board," explains Adam. "There are now progressing regional opportunities for skills assessments and pre-employment programs and we are seeking input from marinas and marine businesses who are looking to improve their recruitment and retention.
"TAFE Queensland, in partnership with the Department of State Development, Tourism and Innovation (DSDTI), is inviting marine businesses to complete a survey to get their input on employment, skills and training to find out how these programs can assist in their objectives."
To get in touch with Adam call 0468 525 874 or email Adam.Chanter@tafe.qld.edu.au