The Yard Brisbane was privileged to welcome the truly iconic yacht Adix for a six-month refit in late 2019.
It was a great opportunity to work with the highly experienced yacht crew of Adix. Their level of commitment and knowledge helped to streamline this project and make it a successful docking.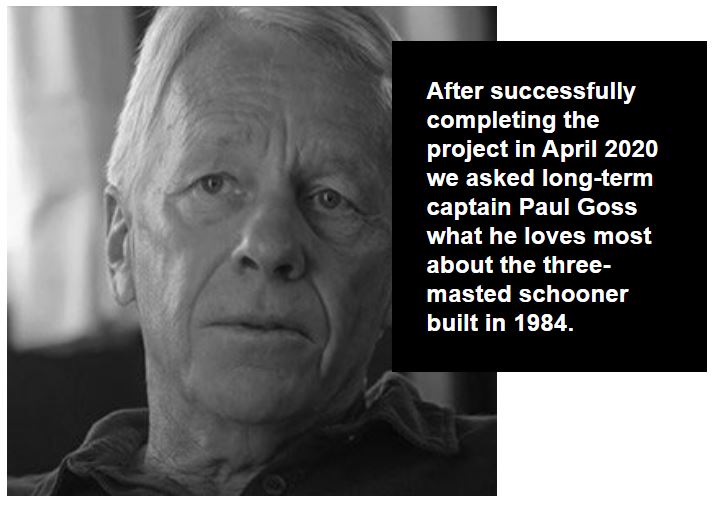 What do you love most about being the captain of Adix?
"Representing a man who absolutely loves his boat, and therefore is willing to take good care of the yacht, underwriting her integrity and longevity."
What gives you the highest level of satisfaction being captain of Adix?
"The ability to continue improving the boat and working with an evolving list of crew members who share the same passion for what the boat represents. Needless to say, the sailing and global destinations are a huge plus."
What do you appreciate most about your crew members?
"Built around the awesome abilities of Adix is the camaraderie of a willing and highly experienced crew, not just on the sailing side, but all the other aspects of managing a big, three-masted schooner. I love their level of commitment, and the crew are everything."
When choosing a facility for refit or repairs what do you look for?
"A facility which allows us to tailor our own requirements for the complexities of the work at hand. We have multi-skilled crew, and it is important we can exercise those abilities and allow the crew to learn and profit from the experience of a large refit.

Flexibility from The Yard Brisbane's management is paramount, also nearby infrastructure of the various trades which we can draw from is also very important."
What facilities at The Yard Brisbane are most important to you when undertaking a refit?
"For a boat like Adix, space is always important. Logistical issues like handling the three rigs and storage in general, is very important. An understanding and supportive yard crew is also a huge benefit and The Yard Brisbane have great people under the guidance of Ben Schooley and Richard Moreira.

Accounts support is also important. We found great support from the administrative side as well, A big asset for me, which means I can concentrate on the job at hand."
How important is it to trust the operations team lifting Adix in and out of the water?
"Trust in the operations team has to be complete. Ben Schooley is a veteran, and his team are highly competent. Handing over to a team at The Yard Brisbane can be done with confidence."
What did you like most about The Yard Brisbane's project sheds?
"The project sheds are amazing facilities in themselves. After induction and training we were able to have the use of several overhead gantry cranes which was a huge benefit. We found great freedom being able to use the facilities provided ourselves."
What is your greatest achievement from this latest refit of Adix?
"We came hoping to achieve a-lot, thinking that we would be happy to get through a big part of it. As it was, we were able to achieve everything that was important, and Adix is now a better boat."
Did you find the staff at The Yard Brisbane helpful during your stay?
"The experience of the key people at The Yard Brisbane stand the yard in good stead. Mark Phelps has a background like mine, and his experience made it easy to convey needs to management. From procurement to servicing, the team are steeped in the professional yachting industry, and that is good stuff to draw from."