Office C1, Sydney Super Yacht Marina
James Craig Rd
Rozelle, NSW 2111
Contact Geoff Majer
+61 2 98107200
+61 4 0842 0323
Fax +61 2 9810 0144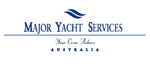 Major Yacht Services (MYS) has been especially designed to meet the growing demands of Superyachts visiting Australian waters.
MYS has over 10 years of experience and we have dealt with over 600 Superyachts.
Some of the services that MYS offers are: Provisions, crew, Custom's formalities, Charter arrangements, Interior, Deck, Engineering supplies, Tax free supplies, local knowledge, charts, Fuels & lubricants, Berth arrangements, itinerary planning, Visas, Freight forwarding.