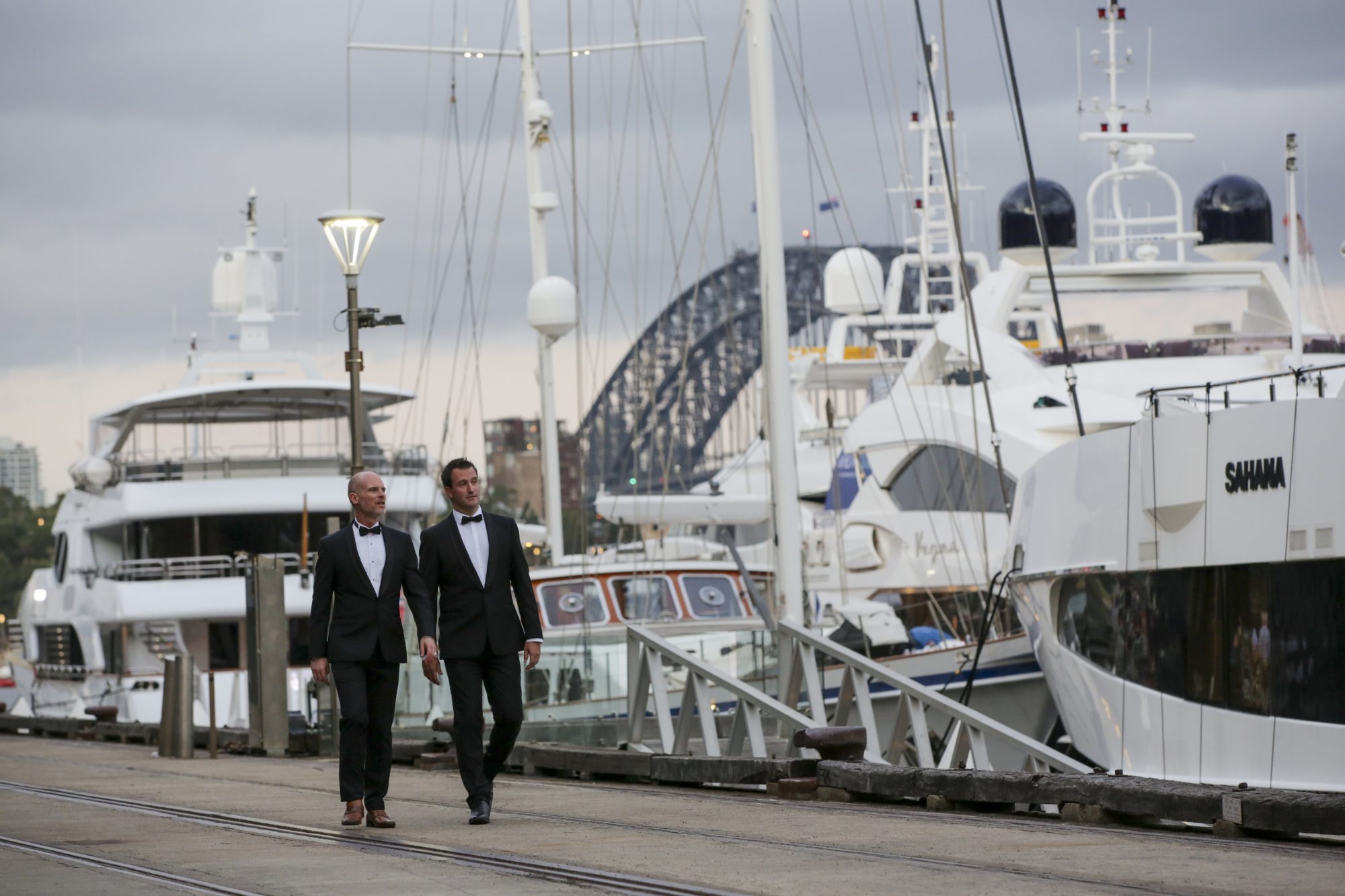 Superyacht Australia is the peak body for the Australian Superyacht Industry and were the organisers of the inaugural Superyacht Australia Grand Soirée that was held in partnership with Major Partner Benetti Yachts at Jones Bay Marina on Saturday 22 February.
The Superyacht Australia Grand Soirée included an impressive display of fourteen vessels along Jones Bay Wharf with many of these opening from 5pm prior to the commencement of this exclusive event giving Grand Soirée guests a unique opportunity. Vessels that were open for viewing included Event Partner Fraser Yachts spell bounding M/Y Sahana and the Ahoy Club's 54 metre M/Y Mischief along with M/Y Lady Pamela and M/Y Vegas.
Vessels showcased the highest level of 6-star hospitality and provided guests with an opportunity to tour these luxurious vessels and to admire the attention to detail and stunning design features and inclusions.
The superyacht display included the following vessels: M/Y Mischief, M/Y The Star, M/Y Deniki, M/Y Lady Pamela, M/Y Vegas, S/Y Jagare, M/Y AU, M/Y Infinity Pacific, M/Y Sahana, M/Y Texas T, M/Y Element, M/Y Mon Reve, M/Y THE STAR and M/Y STAR.
After participating in the "yacht hop", close to two hundred guests were treated to entertainment, canapés plus the award-winning Scotchmans Hill wines, sampling spirits from Manly Spirits Co's dedicated tasting station while applauding the authentically designed fashions on display by Mainie Australia upstairs in The Loft, Doltone House, Jones Bay Marina. Topical with Sail GP occurring in Sydney this week, a foiling showcase was also included with Flite Board on display and on hand to answer any questions on the world's premium efoil (electric foiling surfboard) and SEAir with their high-tech, hydrofoil, rigid inflatable boat (RIB) dubbed the SEAir Flying Tender.
"As the peak body for the superyacht industry, Superyacht Australia were thrilled to hold the inaugural Superyacht Australia Grand Soirée on Saturday night. This prestigious event provided guests who share a passion for the superyacht industry with a night of sophistication and entertainment. The Soirée showcased Sydney as a premium location for Superyachts in terms of facilities and as a destination. We were delighted to be able to showcase locally based superyachts and to support, develop and facilitate the growth of the superyacht industry in Australia overall", said David Good, Chief Executive Officer, Superyacht Australia.
On their involvement as the Major Partner of event, Peter Mahony, General Manager of Benetti Asia shared the following
"2019 was a good year for Benetti and in particular for our development and sales in the South Pacific. We enjoyed excellent support from our partners in Australia and we continue to benefit from a growing network of industry professionals providing regional expertise and specialisation. Our ongoing investment for the future of the industry down under saw Benetti join Superyacht Australia and we were delighted to be the Major Partner of the inaugural Superyacht Australia Grand Soirée".
Captain Graham Tindall, of 60m M/Y Ramble on Rose offered praise after attending "This is a fantastic event and needs the recognition it deserves. I will certainly try to include the yacht next year with the owner's permission and suggest they would like to attend. I think all owners would love what 'Superyacht Australia' are working so hard to achieve here, well done"
In conclusion David Good, Chief Executive Officer, Superyacht Australia said, "I would like to thank the vessels who participated in the yacht hop, all guests for attending and our Event Partners and Sponsors for their involvement and for sharing the vision with Superyacht Australia on this prestigious event, without you the event would not have been possible. Thank you to the Major Partner of the event, Benetti Yachts, the venue host and Event Partner Jones Bay Marina, Event Partners Fraser Yachts, Tourism Australia and Ahoy Club, our valued sponsors Pantaenius Insurance & Sydney Superyacht Marina, our showcase sponsors Scotchmans Hill, Manly Spirits Co., Mainie Australia, Flite Board and SEAir and our media partner The CEO Magazine."