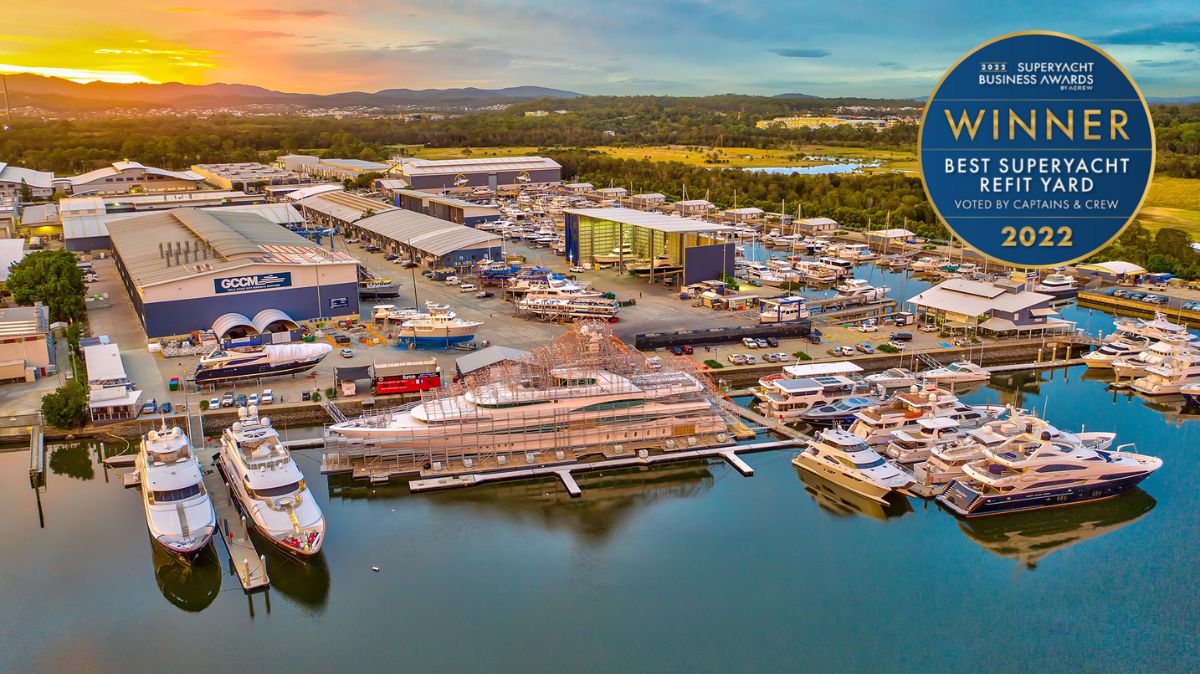 After an exhaustive search for the world's leading superyacht businesses, a 15,000 strong network of crew and captains have voted Gold Coast City Marina & Shipyard (GCCM) as global leading Superyacht Refit Yard in ACrew's Superyacht Business Awards.
This Award recognises and respects the specialised efforts in shore-support to ensure the best refit for yachts. The voting was based on the Refit Yard's willingness to communicate and work together with the Captain and owner to prioritise the works that needs to be done seamlessly and efficiently.
Up to date facilities and knowledge are essential for a successful refit. A number of criteria were assessed, including Customer Service, Safety & Procedures, Location, Up to date facilities Accessibility, Large Slipway and Hoisting Capacity Security.
"We are humbled and proud to be recognised by this award. We share it with our crew and all of our onsite tenants and partners. It is truly a team effort," stated GCCM's CEO, Mr Trenton Gay.
"When we launched the concept of GCCM 22 years ago, our aim was to design the best marina and shipyard facility which would be the base for Australia's leading marine trades offering the very best in customer service and quality. We believe we have achieved this and through ongoing investment, improvements and expansion of the site, we continue to meet the needs of the global superyacht fleet."
ACrew launched their Superyacht Business Awards in 2020 to celebrate leaders in Superyacht services identifying the leaders in each region and category. Gold Coast City Marina and Shipyard had the privilege to be chosen that year for the inaugural award as Australasia's leading superyacht marina and the only Australia-based company to win a regional category.
"This 2022 global Award is a fantastic result, especially when you consider we were up against the very large yards in America and Europe" says Gay. "Congratulations also to our industry partners Coral Sea Marina and Champion Crewing and Concierge for their respective wins. We are definitely putting Australia on the map for Superyachts."