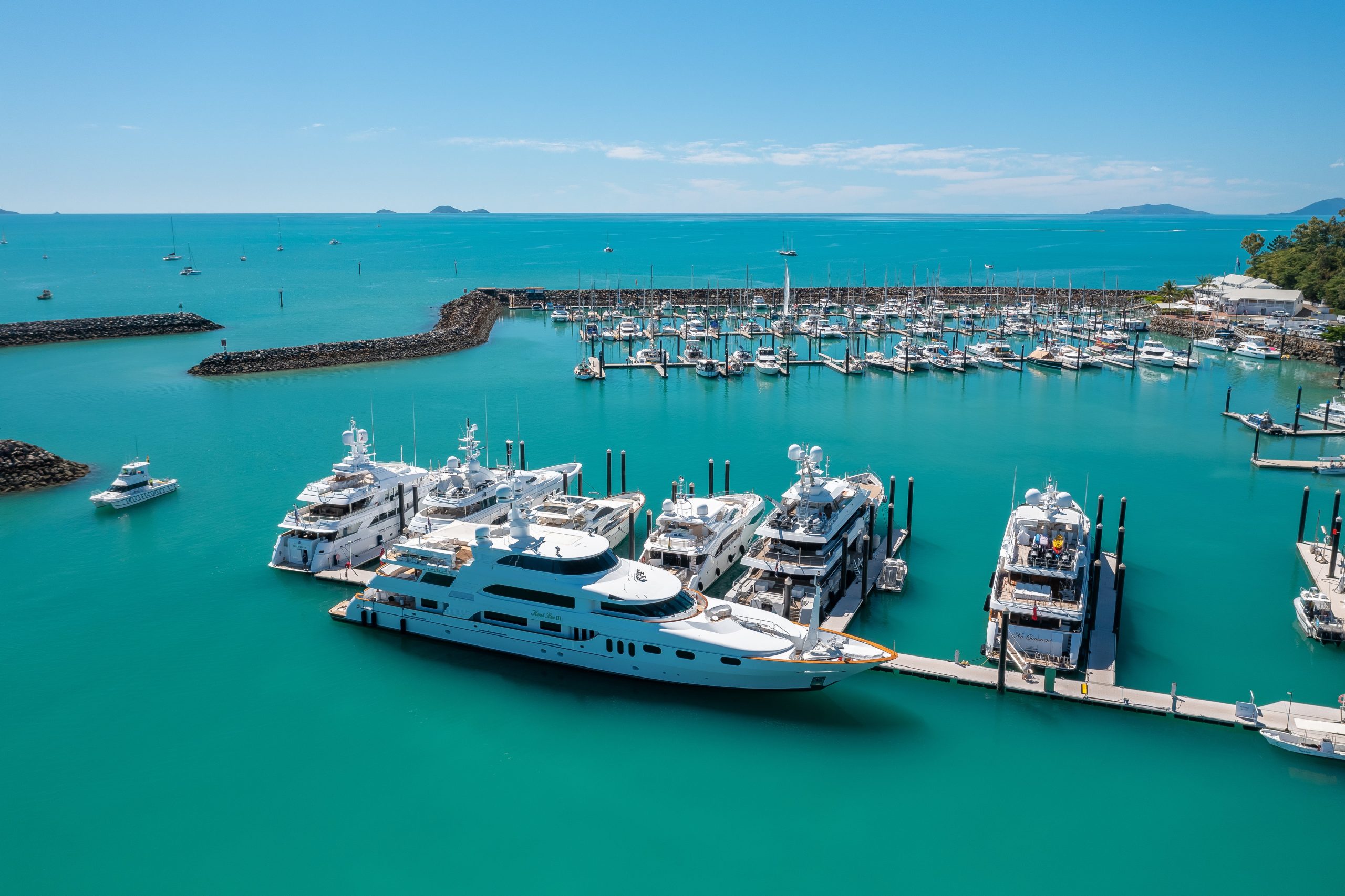 Coral Sea Marina Resort, the Great Barrier Reef's most popular and awarded destination marina, has won 'World's Best Superyacht Marina' 2022 in the prestigious ACREW Superyacht Business Awards this week.
The ACREW Superyacht Business Awards are considered globally to be the most recognised award program in the Superyacht industry.  The selected finalists are voted on by ACREW's extensive network of over 15,000 captains and crew across the globe. The awards offer captains and crew the opportunity to vote for the businesses they feel deserve global recognition for outstanding services in their field.
"When I purchased the marina from the receivers in 2013, my vision was to create the Monaco of the South Pacific," explains marina owner, Paul Darrouzet.
"I expected the transformation to take five years. I did not envisage enduring a major natural disaster or a global pandemic, but throughout it all, we have survived and thrived. Coral Sea Marina Resort has been awarded Australia's Marina of the Year in 2017/2018, 2019/2020 and we were entered into the Hall of Fame in 2021."
"Being awarded the world's Best Superyacht Marina just as we have entered our tenth year of operations, is not only the ultimate accolade – it is a vision realized."
International marina finalists in this category were Porto Montenegro, Rhodes Marina, Marina Genova, Limassol Marina (Cyprus) and Coral Sea Marina Resort.
Arnold Mbiydzengeh, Head of B2B Sales for ACREW, congratulates Coral Sea Marina Resort for winning this award "Winning this award goes to confirm the hard work of the Coral Sea Marina Resort team towards assisting yachts and yacht crew. Keep up with the good work, the Superyacht industry needs more like you."
As runner-up in the last two ACREW Superyacht Business Awards for Best Superyacht Marina 2021 and Best Superyacht Marina Australasia 2020, taking out the win for Best Superyacht Marina against the strong international competition is deemed a significant win for the Australian Superyacht industry as a whole.
David Good, CEO, Superyacht Australia agrees, "Coral Sea Marina Resort is one of the jewels in the crown of Australia. Located at the heart of Australia's best cruising grounds, the Whitsundays Islands in the Great Barrier Reef.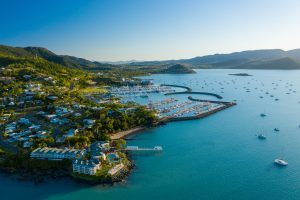 The marina is a destination, with outstanding infrastructure, customer service, and attention to detail that is truly at Superyacht standard."
The award acknowledges the marina with the highest standard of facilities, services and hospitality in the world. As Queensland's first 5 Gold Anchor Platinum accredited marina, Coral Sea Marina Resort offers Superyacht facilities for Megayachts to 80m on the doorstep of the Great Barrier Reef.
Recent marina developments are designed specifically to accommodate the needs of Superyacht captains and crew including significant 3-phase power upgrades, in-berth pump-out facilities and a state-of-the-art crew lounge with modern gym facilities, overlooking the marina's Superyacht berths.
"The past few years have dealt our business some major losses, which makes this win all the more meaningful. I could not be more proud of the dedicated and passionate team I have the privilege of working with every day and their seamless delivery of transformational guest experiences," explains Kate Purdie, CEO, Coral Sea Marina.
Ms Purdie continues "As we plan for our tenth-anniversary celebrations, we will most certainly be celebrating our outstanding team and our key partners with whom we share this award. Our mission is to ensure our service is second to none, and we are grateful to our loyal captains and crew for this global recognition of our collective efforts."
The increase in domestic Superyacht charter demand over the last two years has seen unprecedented visitation at the marina. With that demand for Australian-based Superyacht crew is rising. Successfully catering to this demand is the marina's onsite crewing and concierge agent, Champion Crewing and Concierge.
In their first year of entering the ACREW Superyacht Business Awards, Champion Concierge and Crewing also were successfully awarded Best Superyacht Recruitment Agency 2022.
Kylie Champion, Director or Champion Crewing and Concierge explains "'I am so honored to be recognised with this prestigious global award by a network of international crew. Our home (Coral Sea Marina Resort) is a world-class marina facility in the heart of the Great Barrier Reef giving us and the region a competitive advantage within the Superyacht industry. I'd like to thank everyone who voted for us and of course, this wouldn't be possible without the support of my staff and network."
A continued strong focus on ensuring a world-class crew experience is what drives the dedicated team at Coral Sea Marina. In 2021, the marina launched its Platinum Crew Club specifically designed to immerse Superyacht crew in the region when visiting the Whitsundays and Great Barrier Reef. The Platinum Crew Club aims to create strong advocates for yachting Queensland's premium island destination by hosting crew events and developing an interactive yacht crew community.
"Being a transient resident of the Whitsundays for over 10 years it has been amazing watching Coral Sea Marina grow into the huge operation it is today", explains Jack Sprouster, Captain MY Sumo.
"The Australian super-yachting scene is really taking off and Coral Sea Marina is on the forefront when it comes to its level of services, including courtesy cars, night security, concierge upon arrival as well as a crew lounge and BBQ areas."
"When you combine this with amazing staff it makes this a marina you can settle in for a night or for an entire charter season."
Coral Sea Marina Resort, through its commitment to growing the Australian Superyacht industry, has become a Superyacht hub in one of the world's most untapped and breathtaking yachting destinations.