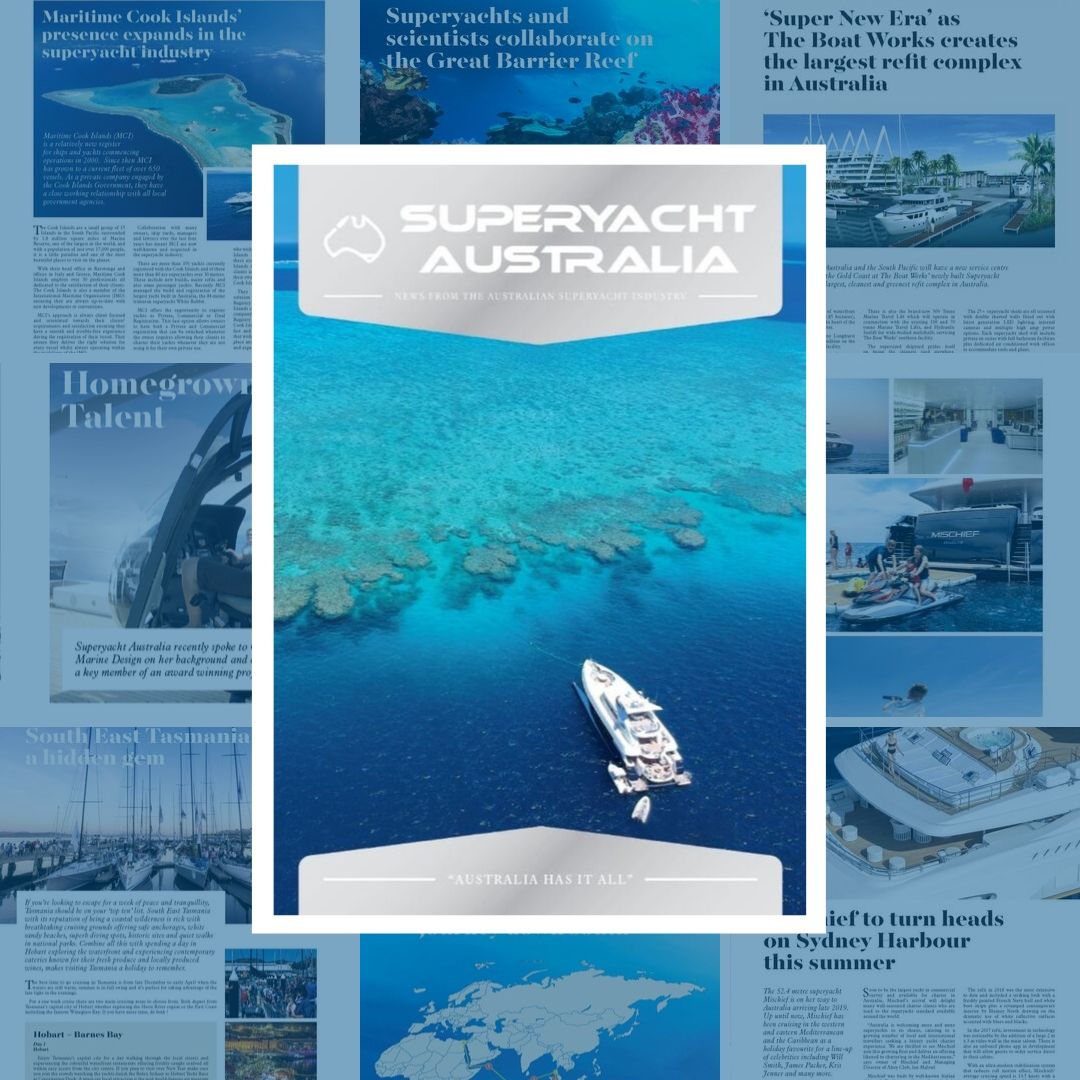 The 2019/2020 Superyacht Australia Magazine was launched today at the Monaco Yacht Show at Superyacht Australia's "South Pacific" stand.
This annual premium publication promotes Australia's excellent reputation in the global marketplace, highlights Australia as a destination and promotes the immense capability of the Australian marine industry.
The front cover features MY Spirit and the magazine is packed with articles on all that Australia has to offer as a destination and with leading refit specialists, world class agents and charter brokers, impressive project managers, interior designers and other suppliers who service the superyacht industry.
Feature articles include Mischief, the 52.4 metre superyacht who is on her way to Australia in late 2019, suggested itineraries for the Solomon Islands and Tasmania along with compelling data that shows Australia is experiencing an increase in the number of visiting vessels along with an increase in their activity in Australian waters.
"We have covered many topics this year including updates on the exciting investment in marine infrastructure in preparation for the Tokyo Olympics and the 36th America's Cup. Our many amazing unique locations for superyachts to explore such as the Great Barrier Reef and Tasmania and top tier events in our larger cities are all highlighted. We trust that you will enjoy this issue of the Superyacht Australia Magazine and share in the pride that Australia has it all," said Barry Jenkins, Chair of Superyacht Australia.
 "In addition to promoting Australia as a destination for all it has to offer, there is also a focus on highlighting the "South Pacific" region in its entirety. The longer a vessel stays in the Pacific, the more the region benefits as a whole," said David Good, Chief Executive Officer of Superyacht Australia.
"Along with the updates from the industry, it is full with impressive imagery that captures the beauty and opportunity that Australia and the South Pacific offers superyachts and it is complete with a Directory Listing of Superyacht Australia members who collectively have given the marine industry so much to report on, celebrate and look forward to", continued David.
The Superyacht Australia Magazine will be distributed at national and international boat shows and events along with the e-book distributed to the extensive Superyacht Australia database.
Copies are available from the South Pacific Stand (Number: DS11 / DARSE SUD) at the Monaco Yacht Show this week or the e-book can be accessed here. Enjoy!