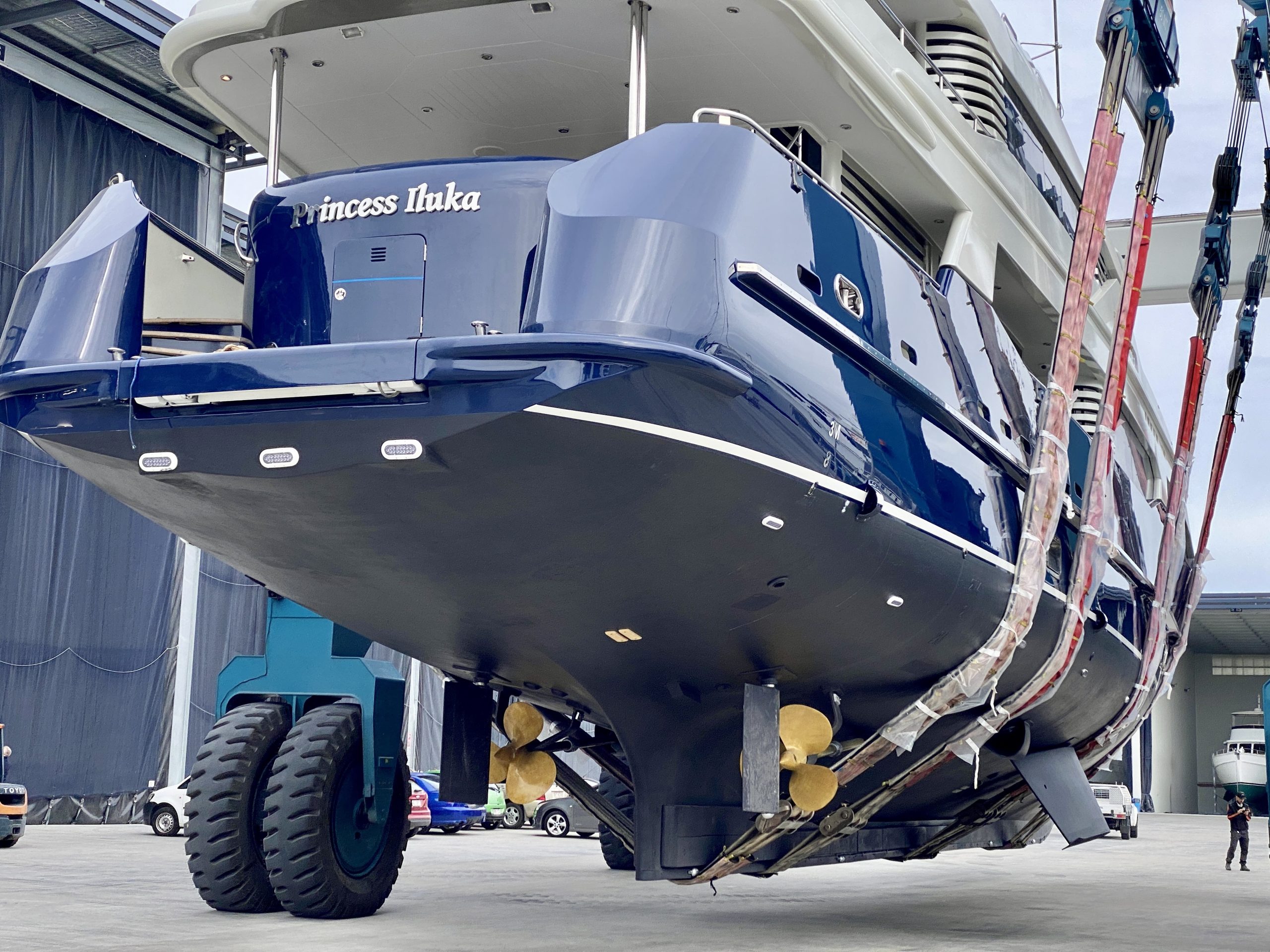 Boat arrivals and vessel refits at The Boat Works are rapidly accelerating ahead of high season with an influx of privately-owned and commercial boats choosing the yard for maintenance and refit works.
The Boat Works' award-winning facilities, comprising of the South Boatyard & North Superyacht facility accommodate over 500 boats out of water with the Gold Coast's largest travelift at 300 tonnes.
Accommodating all makes and models, the yard recently welcomed Princess Iluka the one-of-a-kind, 115-foot timber motor yacht, along with and the 120-foot Oceanfast, Antipodean – both proudly Australian built superyachts, though from vastly different eras.
Arriving from Sydney, the Captain and crew aboard Antipodean commented on the luxury of the bespoke facilities in the VIP lounge.
"We were amazed by the welcoming presentation, hospitality and unique attributes of the superyacht facility," said crew member, Kirsten. "It was a noticeable difference to the usual shipyard."
Princess Iluka spent time in the in-water service berth before being hauled out into the super refit sheds ahead of an eight-month period of works.
Designed by Bernie Cohen and built in Tasmania 1979 out of rot-resistant Huon Pine – one single tree believed to be around 750 years old – Princess Iluka is a veritable heritage motor yacht, as owner, Robert McVicker explained.
"She is a piece of Australian history and I see myself as purely a custodian," he said. "Never again will a vessel of this size ever be built from Huon pine; firstly the cost and secondly the availability of the timbers."
The unique heritage vessel had a series of complex works carried out which involved more than 30 marine professionals and consisted of a varied scope of works, including engineering and refinishing works and removal of a boat wrap to the topside hull. 
Robert said he chose The Boat Works for its highly professional standards and the skilled craftspeople on-site.
"It's an outstanding complex with the size of sheds to accommodate our vessel. There's plenty of support available from the array of onsite marine professional, suppliers and contractors within the precinct," he said.
"It was extremely convenient to have access to specialists in paint, carpentry, electrical, stainless-steel work, and Engineering by Stella Marine who do so much general work."
Of most appeal was the VIP Lounge. "The ability to conduct private meetings direct with the Captain and skilled trades within the VIP lounge directly onsite which is world-class and fully stocked was wonderful. A convenient and great value-added service we used regularly. I don't know any other yard that comes close to offering such a facility.
"Princess Iluka is a timeless masterpiece," he continued. "Proof of this is that she looks as good today and she did when we completed the nine-year rebuild/redesign in 2009."
And because of her sturdy Huon Pine hull, Robert is confident that with regular maintenance, her allure will endure. "Unlike many superyachts, Princess Iluka should still be around in another 100 years."