Contact Captain Martin Debanks

Spirit is a 35 m Wave Piercer that offers Adventure, Exploration and Luxury all in one package. When you charter Spirit you open a world of options from diving world class dive sites, experiencing new and wonderful historical cultures, relaxing in remote anchorages while taking advantage of the serenity, space and 5 star Service that Spirt Luxury Charters and her experience professional crew offer. Spirit offers a variety of vacation and charter opportunities in Australia as far North as Cape York, The Solomon Islands and Papua New Guinea.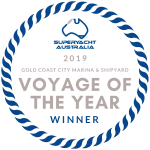 The inspirational Gold Coast City Marina & Shipyard 2019 Australian Voyage Award was presented to the intrepid Captain Martin Debanks of luxury charter yacht, MY SPIRIT, for the voyage of a 10-day charter from Cairns, then Lizard Island to Port Douglas.